Public Information Act (PIA) Requests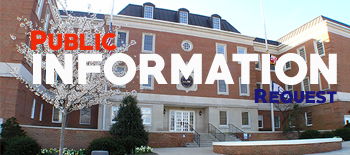 Carroll County is committed to an open and transparent government. The County will assist in locating existing records and documents when access is permitted by law. Please note that the PIA does not require the County to compile information and answer questions or a series of questions. Rather, the basic mandate of the PIA is to enable people to have access to government records without unnecessary costs or delays. Custodians have a responsibility to provide such access unless the requested records fall within one of the exceptions in the statute. All "public records" are covered by the PIA. The term "public record" is defined in GP § 4-101(j) and includes not only written material but also photographs, films, microfilms, recordings, tapes, computerized records, maps, drawings, and any copy of a public record. Please note that in the event your request encompasses more than one agency, it is possible that you will receive separate responses from each agency.
Upon the completion of a PIA form, a window of confirmation will appear and you will receive the documents or a status report within ten (10) working days. However, the County has up to thirty (30) days to comply with more time-consuming requests. The County is not required to create records to satisfy a PIA request.
The County may also assess a fee for responding to a PIA request. The first two hours of the search are at no cost, after two hours a fee of $25/hour will be assessed. The County may also charge for copies at the rate of $0.25/page. If the County determines that the search will take more than two hours, the requestor will be provided with a written estimate of the cost to produce the records. Payment of the estimated costs must be received before the search is started.
**Many materials and documents are available on the county's website without needing to submit a Public Information Act (PIA) request. Before submitting a PIA, please refer to the county website to determine if the documents are already readily available.
Some documents on the site include:
Also, if you are unable to locate the document of interest, please contact the county department involved for a possible quicker resolution. A directory of departments is available here.
I am looking for Documents concerning?
Carroll County Government does not have records regarding the following:
For more PIA information contact:
County Attorney Tim Burke at tburke@carrollcountymd.gov.
225 N. Center Street, Room 300
Westminster, MD 21157
410-386-2030