Carroll County Economic Development and Land Use Study 2nd Public Workshop – April 27, 2023, 5:00 – 7:00PM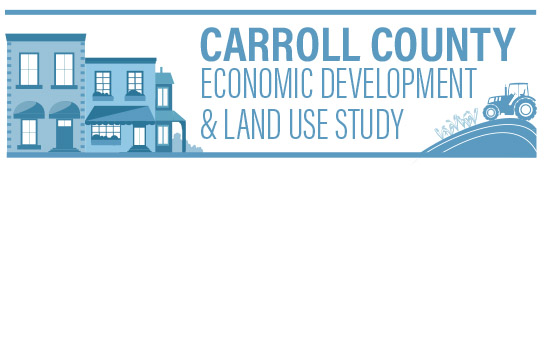 Westminster, MD, Wednesday, March 29, 2023 – Carroll County is excited to announce the second public workshop for the county's Economic Development and Land Use Study, on Thursday, April 27, 2023, beginning at 5:00 PM, in Exploration Commons, located at 50 East Main Street, Westminster! All interested residents are encouraged to attend.
In September 2022, the Carroll County Board of Commissioners authorized a study to evaluate the current status and longer-term potential of economic development in the county.  Currently, WGI Inc., a national design and professional services consulting firm leading in technology-based solutions for the construction of public infrastructure, and real estate development, is gathering background data for the draft study. The consultant is coordinating with the Departments of Planning and Economic Development along with community, business and government stakeholders to collect information.   
The study is important to the citizens and members of the business community of Carroll County.  It will help the county identify where economic development may be best suited by analyzing the county's current infrastructure, land uses, zoning patterns and economic opportunities.  The resulting information from the study will provide baseline information that will be used to draft land use and economic development recommendations during the overall drafting of the upcoming General Development Plan (or County Comprehensive Plan).
Public input and feedback are also important to this project. To encourage community involvement, county staff together with the consultant, invite residents and members of the business community to this interactive workshop.  As with the first workshop, held February 16, 2023, attendees will learn about the study and will also be able to actively provide input, in groups and individually. The second workshop will have a different focus from the first workshop and will offer the public an opportunity to provide thoughts on different industries that may be suitable for the county.  
Staff from the Department of Planning and the consultant working on this study will be on hand to answer any questions from the public. 
This is the second and final public open house in the study's process, but public feedback is always welcome at mailto:ccplanning@carrollcountymd.gov or 410-386-5145. A final draft of the findings is expected in June, followed by public hearings during the summer. The project is anticipated to be finalized by August/September.
For more information about the study, including the timeframe, please visit the Department of Planning webpage, or contact the Carroll County Department of Planning at (410) 386-5145.