County Floodplain Manager Selected as ASFPM Floodplain Manager of the Year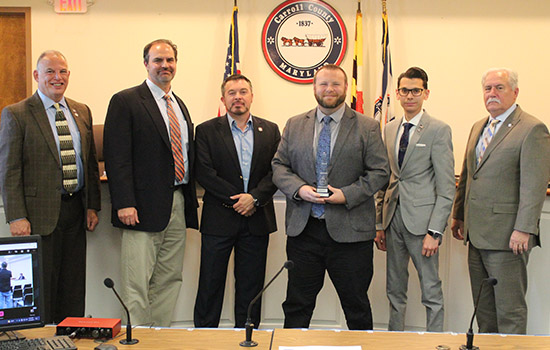 Westminster, MD, Thursday, May 18, 2023 – Today in Open Session, the Carroll County Board of Commissioners recognized and congratulated Certified Floodplain Manager Patrick Varga, who works within the Carroll County Bureau of Resource Management.  Last week Mr. Varga was recognized as the Larry R. Johnston Floodplain Manager of the Year at the national conference for the Association of State Floodplain Managers (ASFPM).  This national award honors outstanding individual efforts and contributions at the local level in the development of a distinguished local program or activity. This is the first time in the award's 30-plus-year history that the recognition was awarded to a Maryland floodplain manager.
Mr. Varga, a 16-year county employee, has served as the Carroll County Floodplain Manager for the last eight years.  As part of his job responsibilities, Mr. Varga reviews all subdivisions, site plans, and building permits for compliance with the provisions of Chapter 38 Floodplain Construction and Chapter 153 Floodplain Management of the Carroll County Code.  Mr. Varga has worked tirelessly to enhance the county's National Flood Insurance Program's Community Rating System (CRS) to a level 7 which provides significantly reduced cost of flood insurance for Carroll's citizens.
Mr. Varga created the county webpage publicizing the 50-year anniversary of Hurricane Agnes, which had a significant impact to Carroll County in 1972.  The webpage included detailed maps, historic photographs,  and videos of eyewitness interviews.  Based on his effort, the Army Corps of Engineers "Silver Jackets" requested Mr. Varga's assistance in creating their own website for Hurricane Agnes.  Mr. Varga has been an active member of the Maryland Chapter of ASFPM, starting as Co-Chair of the Mapping and Technology Committee, and he is currently serving as its Vice President.
"The Carroll County floodplain management program is an example of our county government's dedication to the health, safety, and welfare of our citizens.  The success of this program is due to the dedication of Pat Varga and we are thrilled that his efforts have been recognized on this national stage," said Commissioner Ed Rothstein, President of the Board of Commissioners.    
For more information, please contact Janet O'Meara, Bureau Chief, Bureau of Resource Management, at jomeara@carrollcountymd.gov.