Commissioners Honor Lyburn for Economic Development Legacy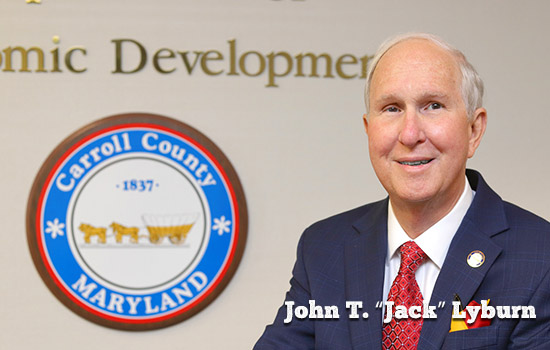 Westminster, MD, Thursday, August 24, 2023 – During Open Session today, the Carroll County Board of Commissioners paused to reflect and remember John T. "Jack" Lyburn, the county's long-serving director of the Department of Economic Development, who recently passed away. The commissioners each took time to pay tribute to Jack during the Priority Carroll segment.
Mr. Lyburn worked for Carroll County as the lead economic developer for over 20 years and was involved in local and regional commercial real estate for over 32 years.  His impact on Carroll County is represented by too many projects to list but his legacy will continue to be seen in the Carroll County community for a very long time. His dedicated efforts spurred capital investments, increased the local tax base, and facilitated the creation of new jobs. Commercial and industrial projects generated over $725 million dollars of investment and land development projects totaling over $520 million are critical to ensuring Carroll's future industrial and commercial growth. Jack was also instrumental in increasing tourism sales tax revenues and for expanding the county's tourism efforts which included creating the award-winning Carroll County Barn Quilt Trail, making infrastructure improvements, and expanding the wedding business at the Carroll County Farm Museum, Carroll's largest tourism venue.
The commissioners announced that the approved new pavilion at the Farm Museum will be dedicated to Jack Lyburn. Work on the pavilion has not yet begun but a dedication ceremony will be planned when the pavilion is established.
"It was an honor and a pleasure to know and work with Jack and I commend his commitment and dedication to Carroll County's economic development initiatives and serving the business community," said Board of Commissioner Tom Gordon III, District 3.  "Jack's extensive professional career, economic development leadership, and community service resulted in many business expansions and recruitment projects and spurred the county's tourism initiatives; he transformed and enriched Carroll County by creating business and job opportunities and has left an indelible mark on our county."