Veterans Celebration of Carroll County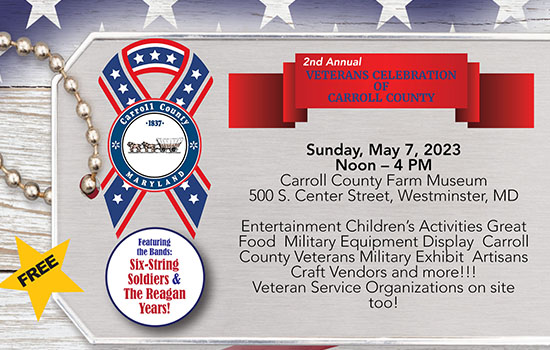 We hope to see you again next year on Sunday, May 5th, 2024.
Thank You to Everyone for making this year's event a success. 
Free Admission:
The event has free admission and free parking for everyone. Reminder: Carroll County Farm Museum is a LARGE, OUTDOOR venue (mainly grass), please dress appropriately for the weather.
Who Should Come:
Everyone! This event celebrates Veterans, the Military and their families, but everyone is invited to join in the festivities, whether you served or not. Join us to enjoy the day and thank a Veteran! Free admission and parking for everyone!
For Veterans:
There will be some special amenities specifically for Veterans:
Event commemorative sportpack*
Event commemorative lapel pin*
One voucher for complimentary beverage or dessert
Complimentary water
Resource Fair with over 25 Veterans Service Organizations
*items are while supplies last
At approximately 1:00 there will be a brief Welcome Ceremony near the stage. Shortly after the welcome, there will be a Recognition Ceremony for all who served in Afghanistan by the Pagoda to the right of the stage.  Those who served are encouraged to receive the recognition including a certificate and an event challenge coin.
Activities for All:
A variety of food vendors
Musical Entertainment: Two bands will be on site to entertain you: At approximately 12:00 listen to the Army Field Band Six-String Soldiers and at approximately 2:00 listen to The Reagan Years
Military Exhibition with helicopter and other equipment
Military display in the farmhouse
Vendor marketplace featuring local craft vendors
Artisans to explore
Children's activities including:
Scavenger Hunt
Playground
Children's Activity Book
Balloon Artist
Face Painting ($)
Food ($):
Regional food trucks and concessions are onsite to provide food, beverages, and desserts. Please stop by the food vendors and browse their menus. Non- alcoholic beverages can be brought to the event; outside alcohol and/or glass containers are NOT allowed. Coolers are subject to inspection at the entrance gate.
Beer ($):
Beer is available ($) on site during the event. Visitors must have a valid state issued ID to patronize the beer garden. Patrons must have their ID checked and have a wristband to legally drink. Plan ahead for a designated driver.
What to bring:
Attendees are strongly encouraged to bring chairs and blankets. Wagons and coolers are also welcome; non-alcoholic beverages may be brought to the event. No glass and no alcohol; bottled water/nonalcoholic drinks accepted ONLY
Please patronize the on-site eateries; please no outside food.
No glass containers or outside alcohol are permitted at the Carroll County Farm Museum.  
All bags and coolers are subject to inspection prior to entry.
Pets: Please leave pets at home. Pets are NOT allowed on the grounds, nor can they be left in vehicles during the event.
Where to park:
Parking is available on-site.
Those who need handicapped parking and those who wish to enter through the museum's Main Gate on Farm Museum Road, please park in the Museum lots at 500 S. Center St., Westminster, MD 21157. A large, handicapped parking area is offered on the Museum lot on a first-come, first-served basis.
Please note, if the museum parking lots reach capacity, they will be closed and all traffic will be diverted to the Carroll County Agriculture Center lot, adjacent to the back of the museum. We suggest coming early if you wish to park on the Museum grounds and enter through the Main Gate. The majority of parking is field/grass parking.
Rain Information (subject to change):
Rain or shine the event will be held at the Farm Museum.
ATM:
Yes, there is an ATM on site.
Special thank you to our sponsors:
Performance Foodservice
Tevis Energy, Inc
Sterling Quality Water
Acts Retirement Life Communities -- Fairhaven
Wells Fargo Home Mortgage
Constable Wealth Management
Island Green
ACNB Insurance Services
Subsurface Technologies Inc
Thank you for attending the Veterans Celebration of Carroll County! We anticipate seeing you at this same event next year, tentatively scheduled for May 5, 2024. Please check back for more information.