Maryland Rural Legacy Program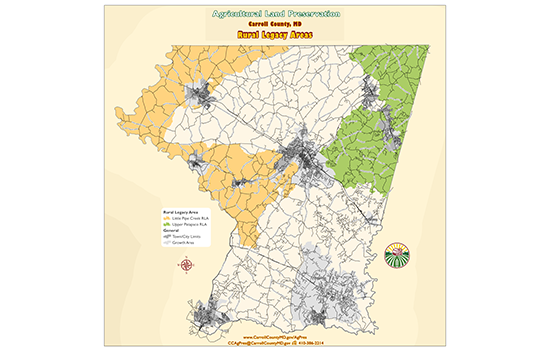 Program Purpose: To preserve farmland, forestland, land with historic value, and environmentally sensitive land for agricultural uses as well as permanent critical habitat protection.
Type of Easement: While funded through grants to the County from the Maryland Department of Natural Resources, Rural Legacy easements are held by the County Commissioners and administered by the County.
Eligibility Factors and Criteria:
1. Properties must be located within a designated Rural Legacy Area (RLA). There are two approved Rural Legacy Areas (RLAs) in Carroll County:
    a. Little Pipe Creek RLA in the west/northwest portion of the county and
    b. Upper Patapsco RLA in the east/northeast portion.
2. Properties must have development potential. Preference is given to properties over 30 acres; however, in some cases, smaller properties may be considered.
Limitations on Development: Only agricultural structures may be constructed. In some cases, the right to reserve a building lot may be permitted. However, the easement purchase price will be significantly reduced.
Conservation Practices: The easement requires a total resource management plan (also known as a "conservation" plan) to be developed and implemented. Stream buffers must be established, and a Forest Stewardship Plan must be obtained within two years or before any forest harvest. Implementation of a conservation plan is required. Periodic inspections are performed to ensure compliance with the requirements of the easement agreement, including the total resource management plan.
Method of Payment: Landowners receive lump sum payment at settlement.
Application Deadline: Applications for properties within a Rural Legacy Area are accepted year-round and can be considered immediately if grant funding is available.
For more information, contact the Ag Pres Program staff at 410-386-2214 or CarrollAgPres@CarrollCountyMD.gov.