Building a New Home or Addition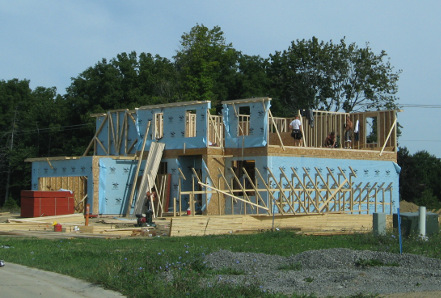 Your new home requires permits and inspections in order to ensure that it is safe for your enjoyment. We encourage you to review our residential code compliance guidelines.
Note: The location of the new home will need to be approved by the Carroll County Zoning Administration and the Carroll County Health Department to ensure that the proposed structure is a sufficient distance away from property lines, septic systems, water infrastructure, etc. The Bureau of Resource Management may also have some special considerations for the given lot. For help with site selection, please contact:
| | |
| --- | --- |
| Carroll County Zoning Administration | 410-386-2980 |
| Carroll County Health Department | 410-876-1884 |
| Resource Management | 410-386-2210 |
Permits Required
Your new home will require a variety of permits/applications to ensure that it is safe and up to code, , including applications for the building, plumbing, fire and electrical portions of the project. Please gather the construction documentation specified below and submit an owner / contractor affidavit and a building permit/zoning application. After the building permit application is filed, the licensed plumber, electrician and sprinkler contractors can submit their plumbing, electrical and fire applications. A septic permit through the Health Department is also required (New Home Only).
Permit Process
Many factors affect the speed with which your application(s) are approved. For best results, it is critical that you carefully review your application and design documents prior to submission to ensure that all necessary documents are included and that the design is compliant with county code. Normally, permits can be issued within 10-15 business days if the application and construction documents are complete, accurate, and code-compliant.
Construction Document Requirements
Submitted documents must contain sufficient information for the plan reviewer to be able to review the proposed construction.
___ Two (2) plot plans of the entire parcel – drawn to scale – to include:

___ Location of the proposed structure
___ Measurements from the proposed structure to each property line
___ Location of any existing structures
___ Location of existing/proposed driveway(s)
___ Location of and distance from the existing/proposed well and/or septic area
___ Road name
___ Drywell location
___ All Easements (Floodplain, Forest Conservation, and Utilities)
___ Area of disturbance

___ Two (2) complete sets of detailed construction plans – drawn to scale – to include:

___ Footing, foundation, and framing plan
___ Floor plan for each level with all rooms labeled with the proposed use and structural details
___ Cross section (1/4 scale), including all framing details
___ Wall section (1/2 scale)
___ Include wall bracing compliance and details
___ Elevations (front, rear and sides)
___ Square footage total (finished and unfinished area(s))
___ Manufacturer installation instructions (for manufactured mobile home only)
___ Seal indicating plans are state-approved (modular dwelling only)
___ Indicate if existing home is sprinklered (addition permits)
___ A current

 

Residential Energy Compliance Form

 

must be submitted with permit application
___ Home Builder's License Number (for construction/placement of new dwelling by a licensed contractor)
___ Townhouse drawings shall be designed by a Maryland registered architect and are required to be sealed and signed
Inspections
Your new home or addition will require a series of inspections throughout the building process. At a minimum, your project will require the following:
Building Inspections
Footing
Foundation
Draintile
Slab
Framing
Insulation
Final
Electrical Inspections
Plumbing Inspections
Ground work
Rough-in
Final
Fire Inspections
Rough-in
Hydro
Sprinkler Completion
Final
Fees
Please see Row A of the building permit fee schedule , Row A of the electrical permit fee schedule, Row A of the fire permit fee schedule and Row A of the plumbing permit fee schedule.
Impact fees are separate from permit fees and are meant to offset the burden that new development creates on schools and parks. The fees are levied on building permit applications and must be paid prior to the issuance of the building permit. Please see our page on impact fees.