Helping Hands Keep Our Parks Green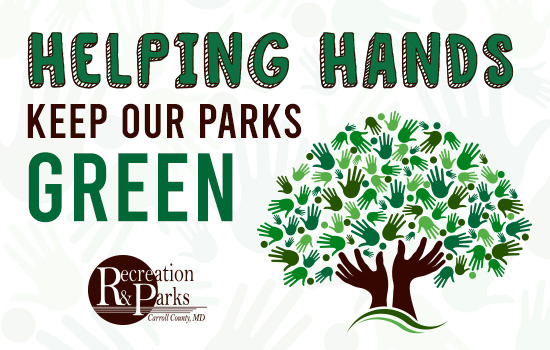 What is Carroll County's Helping Hands Keep Parks Green Program?
Carroll County Department of Recreation and Parks has launched a campaign to encourage additional community involvement to help keep county parks clean.  The Helping Hands Keep Parks Green initiative (hereafter referred to as Helping Hands) is modeled after similar efforts such as Adopt-A-Road and is designed to promote local ownership and care of parks.
What does a commitment to this program entail?
The Helping Hands campaign is an excellent opportunity for local groups to help keep their local parks beautiful and involves a regular, ongoing commitment that may be renewed on an annual basis. The program is focused on general park cleanliness, trash pickup, and trail maintenance.  Typically, these efforts focus on areas such as along walking trails and near ponds and hedgerows/tree lines where trash may accumulate and supplement the work of county staff and volunteers.
Who can participate?
The Helping Hands program is open to youth groups, neighborhood associations, churches, service organizations, schools, businesses, and other community groups throughout Carroll County
What is the Helping Hands Keep Our Parks Green time commitment?
Each year, the adoption commitment begins in March and concludes on December 31.  Each group schedules regular work dates at the beginning of their adoption period through the end of the calendar year.  It is each contact person's responsibility to organize regular cleanups (typically monthly) and communicate those dates with Carroll County Recreation & Parks. 
Safety Rules & Guidelines for Trash Clean-up
Volunteers should:
Wear gloves and clothing that covers arms and legs
Wear closed-toed shoes or boots
Stop working in inclement weather
Drink plenty of fluids– take breaks– avoid overexertion
Be alert for snakes, stinging insects, and poisonous plants
Use proper lifting and bending techniques
Notify Recreation & Parks staff if you encounter hazardous objects, holes, wires, or other hidden obstacles in the ground
Volunteers Should Not:
Pick up what appears to be hazardous material or any type of container with unknown contents
Attempt to squeeze bags to make room for more trash (injuries from broken or jagged objects can result
What do groups do with the trash that is collected?
Trash should be placed in trash bags and bags should be sealed and placed in or near existing park trash cans or dumpsters where they can be removed later by county staff.  If trash bags are needed, please contact Recreation and Parks to receive a supply for your park.
How is the group's participation in the program recognized?
A sign will be placed in the adopted park acknowledging the group's efforts and ongoing commitment.  Participating groups may also have their efforts recognized through additional means such as department publications, press releases, and social media pages.
How does one go through the application process?
Applications are available here, with service to begin March 1, 2023
What are the benefits of the Helping Hands program?
It gives groups a chance to have a "hands-on" role in keeping their community's parks clean and beautiful for the enjoyment of all
It is a great way for your group to spend quality time together and give back to the community
This is an opportunity for positive publicity for your group whose name will be acknowledged on a sign in the park
What are the Helping Hands program guidelines?
Parks will be assigned to groups by the Department of Recreation and Parks
Specific park requests will be reviewed and assigned based on availability
Work is to be completed during regular park hours between sunrise and sunset
All participants should be over the age of 18 or accompanied by an adult
Groups shall report any broken or damaged equipment or amenities
If the group has collected a large amount of trash or needs assistance of any kind, please contact Carroll County Recreation & Parks at ccrec@carrollcountymd.gov or 410-386-2103
All participating groups shall submit the number of volunteers and service hours after each workday