Living Healthy, Living Well in Carroll County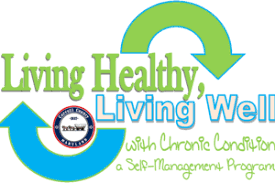 Are you sick and tired of being sick and tired? The key to getting the most out of life is learning to manage your symptoms.
These researched and proven Community-based programs are designed to help people manage their ongoing health conditions. The interactive workshops are designed to improve individual self-management skills, build confidence in setting your own goals, and put new problem-solving skills to work in your own life. A different subject matter is taught each week with an overall goal of improved health and fewer sick days.
These small group workshops are led by two trained facilitators and meet for 21/2 hours once a week for six weeks. The workshops are focused to help you manage your conditions, become more active, have more energy, and serve to complement a participant's current medical plan, but do not replace existing treatments.
Carroll County Bureau of Aging & Disabilities provides at NO COST the Evidence-Based Living Healthy, Living Well self-management workshop series originally developed at Stanford University for those with Chronic Disease, Diabetes, and Chronic Pain.
Tablets with data are available through our lending library program. Please note this on the registration form or when you call to register.
Participants will receive a "Living a Healthy Life with Chronic Conditions" book and a "Relaxation for Mind and Body" CD. Donations for materials are accepted but not required to participate
The Americans with Disabilities Act applies to the Carroll County Government and its programs, services, activities, and facilities. Anyone requiring an auxiliary aid or service for effective communication or who has a complaint should contact The Department of Citizen Services, 410.386.3600 or 1.888.302.8978 or MD Relay 7-1-1/1.800.735.2258 or email ada@carrollcountymd.gov as soon as possible but no later than 72 hours before the scheduled event.
The registration links are as follows:
Diabetes - https://hipaa.jotform.com/222235104078144
Chronic Pain - https://hipaa.jotform.com/222284189716160
Chronic Disease - https://hipaa.jotform.com/222145268420045