Trailblazers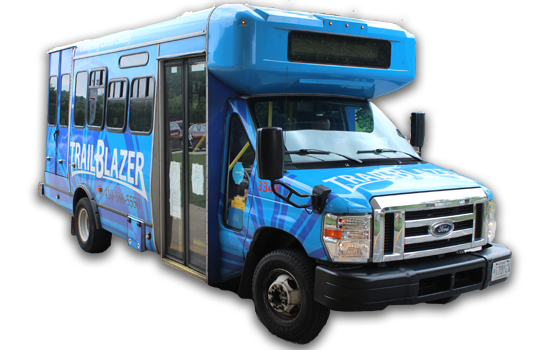 Carroll Transit System offers six fixed routes called TrailBlazers, which are open to the public and run Monday - Friday (check individual routes for actual times) The routes operated are:
QUICK FACTS
Best Fare Value - only $2.00/one way
No reservation required - just be at the TrailBlazer sign
TrailBlazers operate on a regular schedule with specific stops
Deviations* are available up to ¾ of a mile from a stop
All routes connect at the Transfer Hub at Workforce Development (224 N. Center Street, Westminster)



FARES
$2.00 per person for each TrailBlazer Ride
$1.00 for older adults (60+ years of age), individuals with a verified disability and Medicare cardholders. The application for the reduced TrailBlazer fare is available by clicking here. To obtain an application by mail, please call 410-386-5550
$1.00 additional fee for requested deviations*
DEVIATIONS*
If you are within ¾ of a mile from a stop already on the route, you can schedule a deviation and the TrailBlazer will pick you up or drop you off! This service requires a 3 hour advance reservation and comes with an additional $1.00 fare. Not sure if you are within ¾ of a mile? Call CTS and one of the dispatchers will be glad to assist you.
Carroll Transit System provides services in accordance with the Americans with Disabilities Act of 1990.  All TrailBlazer vehicles are wheelchair accessible.
Please pick up a Transit Guide for additional information about all of Carroll Transit System's offerings, or visit the Routes & Schedule webpages listed above & to the left. 
Be At Your Stop
It is recommended to be at your stop 10 minutes prior to the posted arrival time.