Awards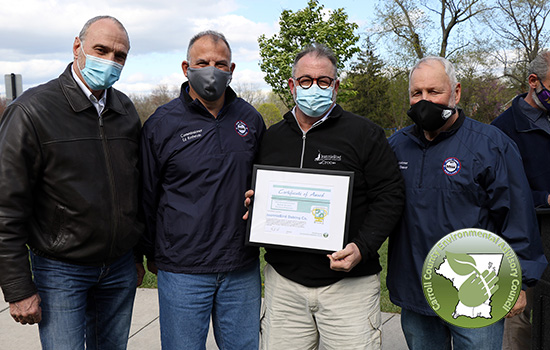 Every other year, Carroll County Environmental Advisory Council (EAC) awards recognition to individuals or groups for their actions demonstrating environmental stewardship.  The goal of the Environmental Action Awards program is to foster community environmental stewardship through leadership and action by encouraging and recognizing community members and groups who voluntarily initiate projects, actions, and leadership to improve the environment and/or facilitate sustainability of natural resources. 
Awards are presented to individuals and groups chosen from nominees submitted for consideration by their peers, although self-nominations are accepted.  Awards are granted for endeavors and projects that result in a positive benefit to the environment and have the potential for long-term community environmental benefit in each of three categories:  Educational Outreach, Positive Practices, and Student Engagement.
 Nominations
Review the Nomination Guidelines & Eligibility Criteria for more information on who is eligible, the three award categories and types of projects this fit each, submission requirements, and other information related to submitting a nomination.  Nominations open on Earth Day, April 22, 2023.  Completed nomination forms, narrative descriptions, and supporting materials must be submitted by close of business on July 31, 2023.  Submission packets will be accepted by email at EAC@carrollcountymd.gov or mailed to Environmental Action Awards, Attn: Environmental Advisory Council, 225 North Center Street, Suite 209, Westminster MD 21157.   All required materials must be submitted by the deadline and conform to the submission requirements in the Nomination Guidelines.  See Documents & Links for 2022 Awards below to download the Nomination Form and/or Nomination Guidelines & Eligibility Criteria.
Award Winners
Winners will be announced by September 30, 2023.  Presentation of awards will occur at the 2023 Environmental Symposium, tentatively scheduled for November 11, 2023.    

Documents & Links for 2023 Awards
Prior Awards Cycles