Awards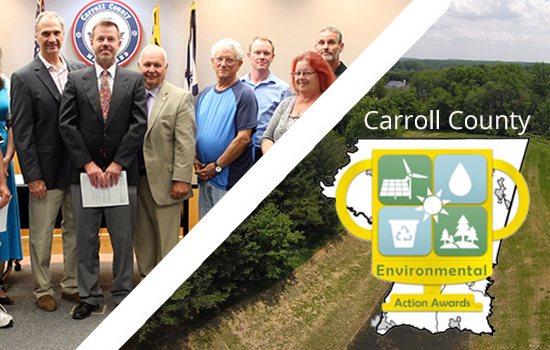 Every other year, Carroll County Environmental Advisory Council (EAC) awards recognition to individuals or groups for their actions demonstrating environmental stewardship.  The goal of the Environmental Action Awards program is to foster community environmental stewardship through leadership and action by encouraging and recognizing community members and groups who voluntarily initiate projects, actions, and leadership to improve the environment and/or facilitate sustainability of natural resources. 
Awards are presented to individuals and groups chosen from nominees submitted for consideration by their peers, although self-nominations are accepted.  Awards are granted for endeavors and projects that result in a positive benefit to the environment and have the potential for long-term community environmental benefit in each of three categories:  Educational Outreach, Positive Practices, and Student Engagement.
2021 Award Winners
The EAC awarded the 2021 Environmental Action Awards to the following nominees. 
The Student Engagement Award goes to Elsa Schoberg! Her initiative led to the creation of the Environmental Action Club at her high school. Under her leadership, the Club completed a biological survey of Copps Branch in Westminster, which was used to develop a three-step recovery plan to help restore the stream.  The plan was approved by the Westminster City Council, and implementation is underway.  Elsa will be awarded a $500 scholarship by Atlantic Blue Water Services of Westminster.  She will also receive a $25 gift card donated by Olive Garden.  Honorable Mentions go to Caring for Our Climate for its youth-led climate initiative and Zach Wetzel for his stream clean-up efforts.
This year's winner of the Positive Practices Award is JeannieBird Baking Company. JeannieBird takes a comprehensive approach to environmental stewardship that permeates all aspects of the bakery's operations and decisions.  Their practices include use of locally sourced ingredients to reduce the bakery's carbon footprint, minimal and alternative packaging, recycling and reduction of the bakery's solid waste stream, composting of food waste, and energy efficient and "smart" devices to maximize energy savings.  JeannieBird Baking Company will receive $75 in gift cards to and donated by Salerno's Restaurant & Catering in Eldersburg.
Kris Phillips, and her husband, JP Miller receive the Educational Outreach Award. Kris and JP led an effort to address noxious weeds while protecting bird habitat on a four-acre field at Krimgold Park.  Together with a group of other volunteers, and in coordination with Carroll County Bureau of Facilities, they regularly monitor the field to remove noxious and invasive species.  Phillips and Mr. Miller will also receive $75 in gift cards to Salerno's Restaurant & Catering in Eldersburg.
Awards Presentation
To honor the winners and celebrate Earth Day (April 22), an awards ceremony was held Wednesday, April 21, 2021, at 4:00 PM at the pavilion at the Westminster Community Pond.  The EAC and members of the Board of County Commissioners jointly presented the awards to the winners, and Atlantic Blue Water Services presented Elsa Schoberg, the student engagement winner, with her scholarship.  A talk & tour of the Westminster Community Pond's water quality project followed the presentation of awards.  
Thank you to our awards sponsors!


Kris Phillips and her husband, JP Miller
receive the Educational Outreach Award

Honorable Mention Student Awards
Zach Wetzel
Documents & Links for 2021 Awards
2023 Nominations
The EAC will begin accepting nominations for the 2023 Environmental Action Awards in January 2023.  To be eligible, projects must be completed between January 2021 and December 2023.  See the 2021 Environmental Action Awards Nomination Guidelines & Eligibility Criteria (above) to check out the requirements for the 2021 Awards.  The guidelines and criteria are subject to change for 2023, so check back again in January 2023 for the requirements specific to the 2023 Awards.
Prior Awards Cycles