Emergency Management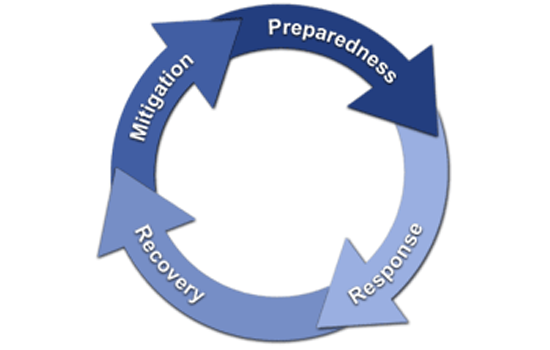 The Emergency Management Division of the Department of Public Safety is responsible for coordinating the response to emergencies and disasters that affect Carroll County.  Our goal is to create and maintain a coordinated program of mitigation, preparedness, response and recovery activities that allows for an all hazards approach to any emergency event.
We cannot accomplish this alone, as we depend on each individual and family to take the necessary steps to prepare and plan for ways to reduce the impact of a crisis, whether it is a natural event like a blizzard or tornado, a technological event like a major power outage, or an act of terrorism.
Mitigation is the identification of risks and vulnerabilities and the implementation of steps to lessen them and thereby reduce the possible impact of an emergency event.  The Carroll County Hazard Mitigation Plan (HMP) has been developed to help guide mitigation activities.
Preparedness actions are those that are taken prior to an emergency that help to facilitate an effective response when an event does occur.  Examples include testing and maintaining equipment, developing emergency plans and procedures, coordinating drills and exercises, and providing emergency preparedness educational resources to residents. Emergency Management builds relationships with law enforcement, fire/rescue and EMS, public works, public schools, public health, non-profits, municipalities and business owners in the preparedness phase to assist with effective collaboration during response.
Emergency Management develops and maintains the Carroll County Emergency Operations Plan (EOP), which outlines the County's response to any emergency or disaster.  The EOP outlines the roles and responsibilities of various departments and agencies that are involved in emergency response.
During the response to a disaster, agencies and departments take action to save lives and minimize damage to property.  Agencies and departments that might respond to a disaster include but are not limited to emergency medical services, law enforcement, fire and rescue, public works & public health.  Emergency Management will activate the Emergency Operations Center (EOC) to facilitate an effective and coordinated response if a significant emergency or disaster threatens or occurs. Carroll County utilizes the National Incident Management System (NIMS) for incident operations.
Recovery involves restoring systems back to normal after an emergency and may be short-term or long-term in nature. Recovery may include damage assessment, debris removal, and provision of disaster assistance information.
How to Reach Emergency Management Staff
Valerie Hawkins – Emergency Management Manager
410-386-2296
vhawkins@carrollcountymd.gov
Jacob Hill – Emergency Management Assistant Manager
410-386-2296
jhill@carrollcountymd.gov
Get the "Prepare Me Carroll" App today!
Prepare Me Carroll is an interactive app designed to allow Carroll County, Maryland residents to access emergency information, alerts and preparedness guidance on the go. This app is NOT meant to be used to report emergency situations. If you experience an emergency please dial 911!
Some of the items featured in this app include emergency alerts, local weather, and power outages, storm-related closures, social media, traffic updates, Emergency Management contact information, preparedness guidance and an interactive emergency kit checklist. This app is intended to be utilized as an addition to your primary means of emergency notification. Technical and cell phone service issues may prevent you from receiving alerts and other notifications in a timely manner.
Sign up for Carroll Alert today!