Frequently Asked Questions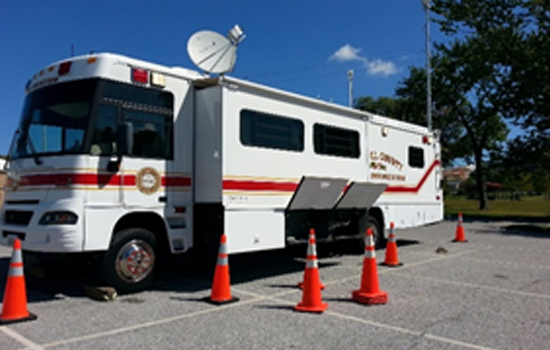 "What is emergency management?"
Emergency Management is the planning, assignment and coordination of all available resources in a concentrated program of mitigation, preparedness, response, and recovery for an all-hazards approach to emergencies and disasters whether man-made, natural, or technological.
Emergency Management:
• Provides for the safety of our citizens through identification of possible hazards by trained emergency managers who plan the steps that need to be taken before, during, and after an emergency of any type.
• Reviews and exercises plans to identify and correct problems.
• Educates and informs the public.
• Coordinates the overall response to an emergency or disaster.
• Works cooperatively with our neighboring jurisdictions, the State of Maryland, and the Federal Government.
"What are the parts of emergency management?"
• Mitigation-activities that are taken to prevent or reduce the occurrence of an emergency or risk to human life and property. This may include: building codes, disaster insurance, public education, procurement of equipment, and identification of resources.
• Preparedness-actions taken prior to an emergency to facilitate a coordinated response. This may include: Continuity of Government decisions, testing and maintaining equipment, developing emergency plans and procedures, identifying hazards, and coordinating drills and exercises.
• Response-actions taken immediately before, during or directly after an emergency to save lives, minimize damage to property, and increase effectiveness of recovery efforts. This may include emergency medical services, police services, fire and rescue services, public works, and protective actions.
• Recovery-This involves restoring systems to normal. They may be short and long term. Recovery may include damage assessment, debris removal, decontamination, disaster assistance, and temporary housing.
"What should I do if I am told to evacuate?"
Depending on the emergency, a dangerous situation may cause the need for you to evacuate your home, workplace or school.  When community evacuations become necessary local officials will provide information to the public through the media and other emergency warning methods.
If told to evacuate:
Stay calm
Consider going to the home of a relative or friend or securing a hotel or motel room outside of the danger area. If you have pets, ensure that your destination can accommodate them.
Wear clothing appropriate for existing or forecasted conditions.
Lock all doors and windows when leaving your home.
Follow evacuation routes deemed safe by local authorities.
Expect heavy traffic and possible road closures. Avoid downed power lines and flooded roads.
Do not return home until officials advise it is safe to do so.
"What does "Shelter in Place" mean?"
There may be situations, depending on your circumstances and the nature of the disaster, when it's simply best to stay where you are and avoid any danger outside by "sheltering in place". Sheltering in place means staying in your home until an emergency subsides or until it is safe for you to leave. 
The length of time you will need to shelter in place may be short, such as during a tornado warning, or long, such as during a winter storm or a pandemic.  During these times, you can utilize the supplies contained in your emergency supplies kit to help you remain safe and as comfortable as possible in your home.
Sometimes, a hazardous materials accident or chemical release may cause the immediate need for residents to shelter in place.  Local emergency officials will broadcast the need to shelter in place through radio and TV broadcasts, phone alerts, social media outlets and other emergency communications methods.  In this case, take the following extra precautions:
Close and lock all windows.
Turn off all ventilation systems, including furnaces, air conditioners, vents and fans.
Bring pets inside.
Monitor local media outlets for information and instructions from local authorities.
"What is a HAZMAT?"
The term HAZMAT is used when referring to hazardous materials – substances or materials which, because of their chemical, physical or biological nature pose a potential risk to life, health or property if released.
"What do I do in case of a fire?"
To put out a small fire, cut off its air or fuel by using water or a fire extinguisher. NEVER try to put out a fire that is getting out of control. Get out of the house and call 911.
If your clothing catches on fire, stop, drop, and roll until the fire is out. Running only makes the fire burn faster.
"How much water should I store in my emergency supplies kit?"
One gallon per person per day for at least three days.
"Where can I get emergency information?"
Getting information during an emergency situation is vital, especially if evacuation may be required. Listen to the following radio and TV stations for information and instructions. Call 1-888-5-GET-EOC (1-888-543-8362) to obtain emergency information on available county programs and services.
Radio: WTTR 1470 AM, WGRX 100.7 FM, WIYY 97.9 FM, WBAL 1090 AM, or a preprogrammed National Weather Service weather radio.
TV: WMAR Channel 2, WBAL Channel 11, WJZ Channel 13, and WBFF Channel 45. Comcast Channel 24. 
County Website: https://carrollcountymd.gov
"What is a Family Communications Plan?"
A family communications plan is a plan that has been discussed and agreed upon by all family members. Family communication plans generally entail a household evacuation location and plan for communicating with one another. In the event of an emergency each family member calls, texts, or emails the same friend or relative, preferably an out of town contact, to provide status and location. Text messaging will often work when email is down and voice traffic is overloaded.
"What should be in an Emergency Supplies Kit?"
An emergency supplies kit should contain food, water and other essential goods to help get you and your family through an emergency.  Some items to include:
Water
Non-perishable food
First aid supplies
Flashlight and extra batteries
Battery powered or hand crank radio
Medical equipment and assistive devices
Clothing and bedding for each person
Cash
Basic tools