Finishing a Basement or Interior Renovation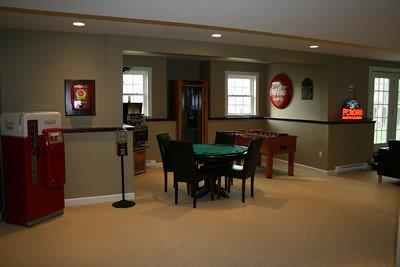 Your finished basement or interior alteration requires permits and inspections in order to ensure that it is safe for your enjoyment. We encourage you to review our compliance guidelines for finished basements before applying for a permit.
Permits Required
Your finished basement or interior alteration will require a building permit, and if wired with electricity, an electrical permit. If new plumbing elements will be installed, a plumbing permit will also be required. Please gather the construction documentation specified below and submit a building permit application. After the building permit is filed, have your licensed electrician submit an electrical permit application and/or have your licensed plumber submit a plumbing permit application.
Permit Applications Needed
Permit Process
Many factors affect the speed with which your application(s) are approved. For best results, it is critical that you carefully review your application and design documents prior to submission to ensure that all necessary documents are included and that the design is compliant with the county code. Normally, permits can be issued within 10-15 business days if the application is complete, accurate, and code-compliant.
Construction Document Requirements
Submitted documents must contain sufficient information for the plan reviewer to be able to review the proposed construction.
___ Two (2) complete sets of detailed construction plans – drawn to scale – to include:

___ Floor plan for each level with all rooms labeled with the proposed use and structural details
___ Square footage totals (finished and unfinished area(s)
___ Window and door sizes indicated
___ Means of egress location
___ Finished ceiling height indicated
___ Type of wall framing and spacing (2x4 or metal)
___ Exterior wall insulations
___ Smoke detectors (in each bedroom and in immediate vicinity of bedrooms)
___ Indicate if existing home is sprinklered
Inspections
Your finished basement will require a series of inspections throughout the building process. At a minimum, your finished basement will require the following:
Building Inspections
Electrical and Plumbing Inspections
Fees
Please see Row C of the building permit fee schedule. If applicable, see Row D of the electrical permit fee schedule and/or Row D of the plumbing permit fee schedule.