Hap Baker Firearms Facility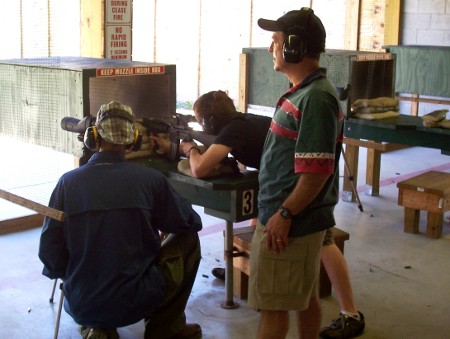 Hap Baker Firearms Facility is now accepting credit card purchases at the range!
Hap Baker Firearms Facility Updates:
Users can look forward to the following facility updates and improvements:
The 200-yard berm in the rifle range was regraded and rebuilt, with the side berm elevated to exceed 8 feet, meeting the recently updated NRA range standards.
The pistol range was lengthened from 17 to 25 yards and each stall now has its own lighting overhead.
The pistol range's target retrieval system was upgraded with each bench upgraded to an individual stall to protect shooters from casing discharge and reduce noise.
Construction of a new building at the range is underway to replace the former construction trailer that had exceeded its useful lifespan.
The Hap Baker Firearms Facility is a public shooting range that has been designed and built to meet the National Rifle Association range specifications. Our goal for this facility is to provide firearms enthusiasts a safe environment for practicing their sporting activities, and police units with a facility for conducting certification, training, and practice operations. The range is equipped with 9 Pistol Lanes (5-25 yards) and 10 Rifle Lanes (25-200 yards). No reservations needed. 
If you have any questions concerning Hap Baker Firearms Facility please call the main Recreation & Parks office at 410-386-2103 or email us at HapBakerFirearmsFacilityDL@carrollcountymd.gov
Hours of Operation


The range is open rain or shine. The facility is always closed to the public Monday and Tuesday. However, training of law enforcement personnel may occur at the range on days when the range is closed.
Fees
All users are required to sign an agreement to obey all rules and to assume personal responsibility for any personal injury and/or damage to the property. 
 
In-County
Out-of-County 

     Daily Fee

$15

$25

     Military & Veteran Daily Fee

$7
$15

     Season Pass
     (August 15, 2021 - July 31, 2022)

$75
$125

     Military & Veteran Season Pass
    (August 15, 2021 - July 31, 2022)

$35
$100
$350
$700
Cash, check, VISA (beginning 8/15/21), MasterCard (beginning 8/15/21), or Discover (beginning 8/15/21) is accepted at the range. 
Targets, ear, and eye protection are available for purchase at the range for a minimal fee if you do not have your own.
Must present ID/Documentation for Military & Veteran discounted fees.
Sign Up for Your Hap Baker Membership Online