Commissioner Kenny Kiler Schedules District 2 Town Hall for March 29th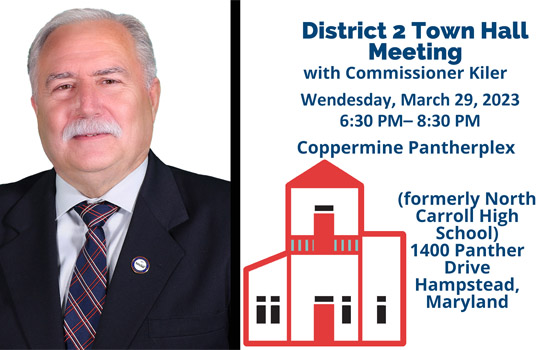 Westminster, MD, Monday, March 13, 2023 – District 2 Carroll County Commissioner Kenny Kiler will hold a Town Hall meeting on Wednesday, March 29, 2023, from 6:30 p.m. to 8:30 p.m. at the Coppermine Pantherplex facility in Hampstead. District 2 encompasses the northeastern portion of Carroll County, including the Manchester, Hampstead, and Finksburg areas.
Town Halls provide a great opportunity for commissioners to brief citizens and for citizens to ask questions and share concerns, thoughts, and ideas.  All are welcome.
Meet and talk with new District 2 Commissioner Kenny Kiler!
District 2 Town Hall Meeting
Wednesday, March 29th
6:30 p.m. to 8:30 p.m.
Location:
Coppermine Pantherplex
(formerly North Carroll High School)
1400 Panther Drive
Hampstead, Maryland

For more information, please contact the Commissioner Kiler's office at 410-386-2043.