Hands on Skills for Caregivers Workshop 2/25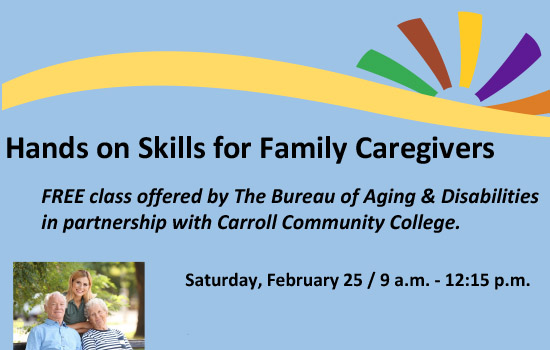 Westminster, MD, Thursday, February 16, 2023 – The Carroll County Bureau of Aging & Disabilities' Family Caregiver Support Program, in partnership with Carroll Community College, will hold a "Hands on Skills for Family Caregivers" workshop on Saturday, February 25, 2023, from 9:00 am – 12:15 pm at Carroll Community College, 1601 Washington Road in Westminster. 
Participants will learn basic skills to care for a loved one in the home, including: caregiver essentials such as infection control and home safety, personal care, tips for mealtime assistance and proper transfer techniques.
The class is open to caregivers and others interested in the topics.  There is no cost to attend the class, but registration is required.  A light breakfast will be provided. 
Register online here or call Continuing Education and Training at 410-386-8100.
The Family Caregiver Support Program is designed to assist caregivers who are caring for family members over the age of 60 and grandparents raising grandchildren under the age of 18.