County DFEMS Hiring Next Fire/EMS Positions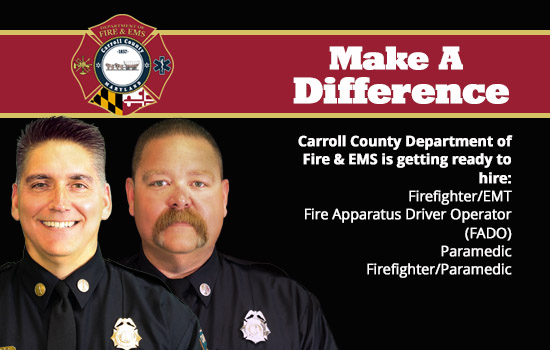 Westminster, MD, Thursday, June 15, 2023 – Carroll County Fire & Emergency Medical Services (DFEMS) begins the next wave of hiring on Friday, June 16, 2023, for the new county combination system. Career positions which will be available soon for Carroll County DFEMS include:
Paramedic
Firefighter/Paramedic
Firefighter/EMT
Fire Apparatus Driver Operator (FADO)
Beginning June 16th, view job descriptions and apply online here (jobs will not be viewable until this date). It is very important that applicants follow the instructions and upload all the required documents. Please see the supplemental instructions and requirement documents for more detailed information.  
Completed applications must be received by Saturday, July 15, 2023.
Two information sessions will be held at the Public Safety Training Center (PSTC), 50 Kate Wagner Road in Westminster:
Tuesday, June 27th from 6pm-9pm
Monday, July 10th from 6pm-9pm
Check the DFEMS Facebook page or website for more information.
The multi-step hiring process includes validation of training and credentials, written exam, physical ability testing, interview, position specific testing, background investigation, occupational physical and psychological testing.
The Carroll County Dept of Fire & EMS is developing a progressive combination career/volunteer system. The county provides a 24/72 work schedule, competitive salary and benefits, and opportunities for career growth. Take advantage of this chance to make a difference!
For more information or questions email CarrollDFEMSHiring@carrollcountymd.gov.