County Recognizes Employees with Service Awards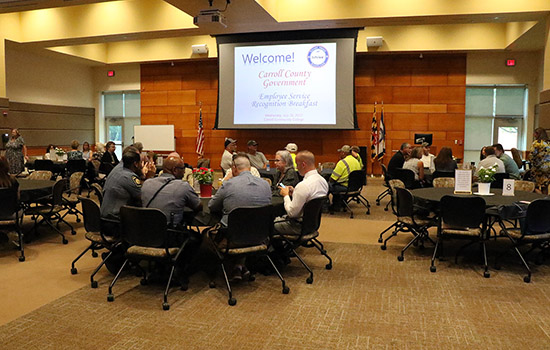 Westminster, MD, July 27, 2023 – Yesterday, 90 Carroll County Government employees were recognized for their dedication to public service at an awards breakfast at Carroll Community College. The employee recognition ceremony acknowledged employees who have 10-15-20-25-30-35-40 and 45-year anniversaries working for the county. These 90 employees represent a cumulative total of 1,590 years of service.  Forty-six employees who attained a 5-year anniversary were recognized earlier in the month.  The total for all groups is 136 employees representing 1,820 years.
The Board of Commissioners and department directors attended the event to say thank you to dedicated and loyal employees who provide outstanding service to Carroll County residents and businesses every day through their professionalism, knowledge, commitment to serving, and hard work.
"This event is a great way to acknowledge the longevity of so many employees who represent a deep level of institutional knowledge. I am very proud to work with such an outstanding group of people who make a positive difference in our county," said Commissioner President Ed Rothstein. "County employees work hard to maintain the safety, security and quality of life in our community every day. Carroll County is a great place to work and the county is a better place because of the continued dedication of our employees."