All Invited to Veterans Celebration on May 7th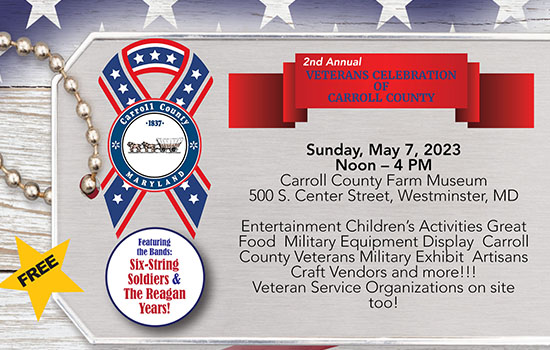 Westminster, MD, Thursday, April 27, 2023 – The Carroll County Board of Commissioners is pleased to invite everyone to the 2nd Annual Veterans Celebration of Carroll County.  This family-friendly event will be held Sunday, May 7, 2023, from noon – 4:00 PM at the Carroll County Farm Museum in Westminster. Celebrating all Veterans, Military, and their families, all Carroll County residents are invited to attend the free celebration. Veterans will receive complimentary gifts while supplies last.
The family-friendly day includes live entertainment, food trucks, and vendors, children's activities, military exhibits, craft vendors, and more. Two bands will entertain the guests, the Six String Soldiers from the United States Army Field Band, followed by The Reagan Years. The day will also feature a resource fair hosting many local Veteran Service Organizations with helpful information and materials for Veterans of all ages. There will be a brief Welcome Ceremony at 1:00 PM on the stage followed by a Recognition Ceremony for those who served in Afghanistan.
Whether you are a Veteran, in the military, know a Veteran, appreciate Veterans, or want a fun day with good food and entertainment, join the commissioners and the community for this wonderful event!
The commissioners, with their partner the Carroll County Veterans Advisory Council, chose May, as National Military Appreciation Month, to plan an event as a give-back opportunity to Veterans and their families in our community to thank them for service to our country.
Visit the dedicated webpage and Facebook event which highlights the activities planned for the day. For more information about the Carroll County Veterans Celebration, please contact the Department of Citizen Services at 410-386-3600 and for venue-related details, please contact the Farm Museum at 800-654-4645.
Please join us! We look forward to seeing you!