Winter Resources for Carroll Residents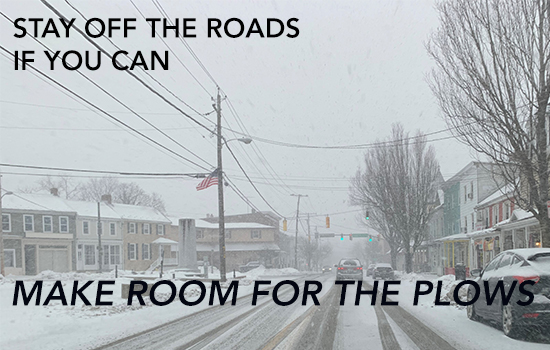 Westminster, MD, Thursday, December 15, 2022 – Winter brings a variety of needs for our local residents. Please keep this information in mind for yourself, loved ones, neighbors and those who may be vulnerable to winter hazards. Residents are advised to put safety first and stay in place if the conditions around you are dangerous.
National Weather Service Official Forecast Information: https://www.weather.gov/lwx/winter
Winter Weather Preparedness Tips: https://www.ready.gov/winter-weather
Additional winter weather safety information is available in the Carroll County Citizens Guide to Emergency Preparedness:  https://www.carrollcountymd.gov/government/directory/public-safety/emergency-management/citizens-guide-to-emergency-preparedness/. Also explore the Carroll County Department of Public Safety's Facebook and Twitter (@CarrCoMDPubSafe) for more tips on how to stay safe during wintry weather.
For Those Seeking Shelter:  Human Services Programs (HSP) of Carroll County, Inc. operates a year-round night by night shelter serving those that are street homeless, located at 127 Stoner Avenue, Westminster, MD.  The shelter accepts nightly participants on a walk-in basis starting at 7:00 pm with stays through 8:00 am the following morning.  Contact 410-386-6679 for more information.  Hot food is available. While the national declaration of a public health emergency remains in effect, participants must wear a mask while at shelter. Please enter by 10:00 pm.
For Those Needing Heating Assistance: Apply for heating and utility bill assistance at Human Services Programs of Carroll County, Inc. Call 410-857-2999 for more information.
Prepare Me Carroll App:  Prepare Me Carroll is an interactive app designed to allow Carroll County residents to access emergency information, alerts, and preparedness guidance on the go. Some of the items featured in this app include emergency alerts, local weather and power outages, storm related closures, social media, traffic updates, Emergency Management contact information, preparedness guidance and an interactive emergency kit checklist.
Snow Related Non-Emergencies:  Residents wishing to report snow related non-emergencies such as mailbox damage should use the county's See Click Report site and mobile app.
BGE Issues and outages: Report an electric outage online, including on your smart phone or tablet. Or call 24/7 at 1-877-778-2222.
Potomac Edison outages: Report a power outage or electricity-related emergency at 800-686-0011.
To receive news releases and other information from Carroll County Government, please subscribe to Carroll Connect, the county's free digital information service.
For more information on local cold weather resources, including energy assistance, visit the Carroll County Health Department cold weather webpage or check out the Carroll County Health Department on Facebook.