School System and Partners Ask Community to Help Keep Students Safe as School Starts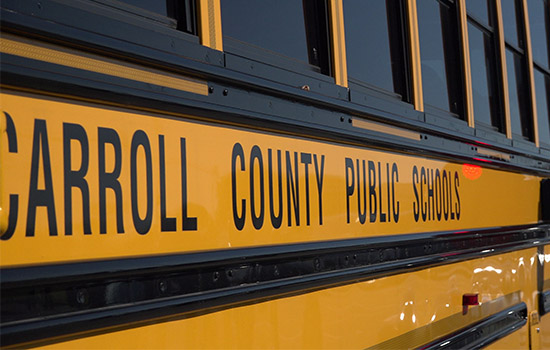 Westminster, August 29, 2023 — Carroll County Public Schools is partnering with the Carroll County Sheriff's Office, the Carroll County Health Department, and the Board of County Commissioners to raise awareness of school bus safety.
According to Dr. Cynthia McCabe, Superintendent of Carroll County Public Schools, "While this is an exciting time for those of us in the school system, we do want to remind the community that our number one priority is keeping our students safe."
Carroll County Public Schools will open for the new school year on Tuesday, September 5, 2023, with approximately 24,500 students being eligible for transportation on 246 yellow school buses. Carroll County school buses typically travel more than 100 miles each school day.
"Going back to school is an important time for everyone in our community and safety needs to be the number one priority," said Board of Commissioner President Ed Rothstein. "We will help protect our students and safely share the roads by eliminating distracted driving, carefully watching for buses and school zones, and monitoring children on the roads and sidewalks."
Motorists should expect to encounter students walking to and from their bus stops and waiting for their buses to arrive. Buses will be making frequent stops, and drivers must obey school bus stop laws. All buses are equipped with stop-arm cameras to protect our students. Remember, motorists must stop in both directions (on all roadways without a solid median divider) for school buses with their red flashing lights activated. Motorists also should expect to see a significant increase in traffic on our roads, as well as changes in traffic patterns.
"Safety is all of our responsibility," said Carroll County Sheriff James DeWees. "Knowing that there will be additional parents, students, and buses on the roadways, make sure to allow yourself extra time for your commute, and be especially alert around bus stops."
The participating agencies are posting important school bus safety information and tips for motorists on their social media platforms. Members of the community are encouraged to take the time to review this information prior to the first day of school.
"Back to school time also is a great time to do safety checks with your kids – make sure kids know traffic rules when getting on or off the bus or walking, make sure car seats and boosters are installed and used correctly, and make sure their helmets fit correctly when biking or skating," said Safe Kids Carroll County Coordinator Maggie Rauser, Carroll County Health Department.
#     #    #
Contact:          
Carey Gaddis, Communications Officer, Carroll County Public Schools, CareyGaddis@carrollk12.org
Chris Winebrenner, Communications Manager, Carroll County Government, cwinebrenner@carrollcountymd.gov
Corporal Jon Light, Public Information Officer, Carroll County Sheriff's Office, jlight@carrollcountymd.gov
Maggie Kunz, M.P.H., Health Planner, Carroll County Health Department, maggie.kunz@maryland.gov