Effingham Promoted to New Deputy County Administrator Position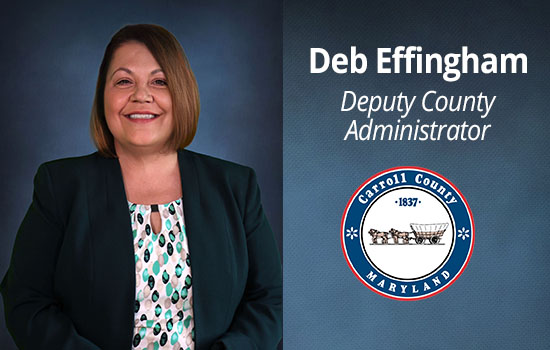 WESTMINSTER, MD, Thursday, April 27, 2023 – The Board of County Commissioners is pleased to announce the promotion of Ms. Deborah Effingham into the new position of Deputy County Administrator. Ms. Effingham is currently the county's Bureau Chief of Budget and will transition to the new position in June 2023.  
This newly created position is responsible for supporting the coordination of overall county operations and works closely with the County Administrator, Board of Commissioners, department leadership, community, and business leaders, as well as other state and local officials to define and develop strategies to enhance the delivery of county services. The position also has direct oversight responsibility for select departments, and large-scale projects and initiatives countywide.
Ms. Effingham has worked for Carroll County for over 18 years within the Department of Management and Budget, she was a Management and Budget Project Coordinator before being promoted to Bureau Chief of Budget in 2012. Her current role includes managing the overall direction, coordination and evaluation of the Bureau of Budget and overseeing and managing employees engaged in fiscal management activities including revenue estimates, current expense budget, capital budget and the county's six-year plans. Prior to working for Carroll County, she worked in the private sector as a financial controller for Wheelabrator Technologies, Inc. in Baltimore.
Ms. Effingham earned a Master of Business Administration - Finance degree from Drexel University in Philadelphia, Pennsylvania, and a Bachelor of Science degree in Business Administration - Economics from Shippensburg University in Shippensburg, Pennsylvania. Her training also includes Maryland World Class Consortia, Improving Government with Lean Thinking, Maryland Climate Leadership Academy, and she is currently pursuing the University of Maryland's Academy of Excellence in Local Governance program.
Deb has been a resident of Carroll County for 25 years and lives in Hampstead where she and her late husband raised their three children. She enjoys hiking, gardening, music, and spending time with her family and baby granddaughter.
"I am so excited and pleased to welcome Deb as my new deputy county administrator and recognize this as a historically significant move for the county to create this position for the first time," said County Administrator Roberta Windham." I know that Deb's extensive experience, organizational knowledge, and budget management skills are going to be extremely beneficial in operating the executive functions of the Board of County Commissioners and being a principal contact for the county.  This is a critical management position and I look forward to working even more closely with Deb as we work on strategic planning and new initiatives for Carroll County Government."
Ms. Effingham notes, "I am very grateful and excited for the opportunity to fill the role of Deputy County Administrator and to work alongside County Administrator Roberta Windham, and the management team to tackle our present-day issues and prepare our organization to effectively confront future challenges."