Winter Driving Safety and Tips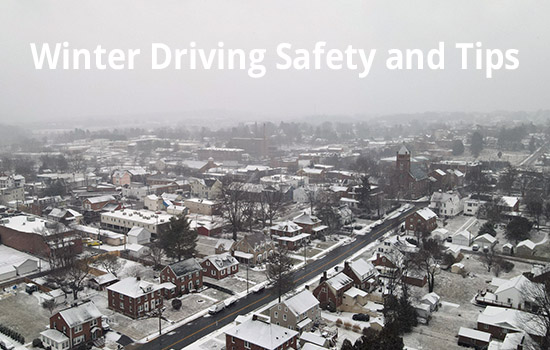 Westminster, MD, Wednesday, December 14, 2022 – For Carroll Countians, the next few months usually means traveling in wintery weather when road conditions are less than ideal. On average, more than 200,000 crashes occur statewide every year due to unsafe driving – moving too fast for conditions, following too closely, or failing to maintain a lane and overcorrecting – in inclement weather. Winter weather conditions require motorists to drive more slowly and allow extra space between their vehicle and others. Under any type of weather conditions, wearing a seat belt and focusing on the road are crucial.
Winter Driving Tips
Inspect your vehicle for safety. When traveling, take tire chains, flashlight, ice scraper, snow shovel, first-aid supplies, extra clothes/gloves, blanket, flares, non-perishable food/water, jumper cables.
Remove snow and ice from a vehicle's roof, windows, mirrors, and lights prior to driving.
Before traveling, check tires, brakes, lights, battery, wipers, defroster, heater, vehicle fluid levels.
Only travel in winter weather when it is essential and leave early to provide adequate time to safely reach your destination.
Slow down on winter roads: speed limits are based on dry pavement and clear weather.
Maintain a safe distance from other vehicles.
Watch carefully for snow removal equipment.
Use extra caution on bridges and ramps, as they may be icy.
Carroll County residents and motorists are encouraged to visit the following sites for more information:
Maryland Department of Transportation Motor Vehicle Administration - Safe Winter Driving Practices
National Highway Traffic Safety Administration - Winter Driving Tips
AAA - Winter Driving Tips
Watch for tomorrow's release on resources for winter.