Commissioner Guerin Now County Ambassador for 988 The National Suicide Prevention Lifeline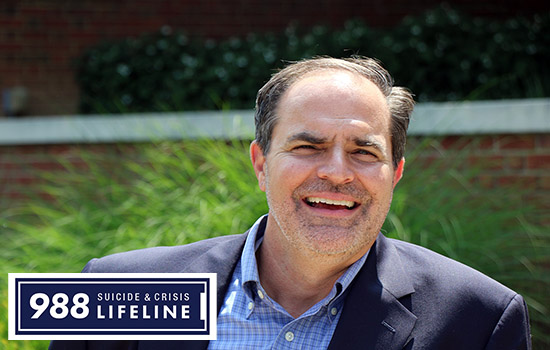 Westminster, MD, July 27, 2023 – Carroll County is pleased to announce that Commissioner Mike Guerin, District 4, is now certified as a 988 suicide prevention Advocacy Ambassador. The one-year-old three-digit dialing code 988,  was designated as the new National Suicide Prevention Lifeline in July 2022. According to the American Foundation for Suicide Prevention (AFSP) website, "Advocacy Ambassadors lead public policy activities on behalf of AFSP Chapters. They work closely with chapter leaders and the Public Policy Team throughout the year to establish AFSP as the go-to suicide prevention policy resource in the area."
Marylanders can connect to a local behavioral health crisis call specialist through the 9-8-8 Suicide & Crisis Lifeline by calling or texting 988 or by chatting online at 988Lifeline.org.
The goal of the helpline is to prevent suicide and provide quality emergency mental health care across the state and the 24/7/365 helpline addresses the growing need for emergency mental health support and promotes community emotional well-being. The helpline, which Maryland residents can reach by dialing 988, connects callers to local centers providing free, safe, supportive, confidential and professional care. Call, text or chat functions are all available.
988 differs from 911 in that 988 was established to improve access to crisis services in a way that meets our country's growing suicide and mental health-related crisis care needs. 988 provides easier access to the Lifeline network and related crisis resources, which are distinct from 911 (where the focus is on dispatching Emergency Medical Services, fire and police as needed).
Today in Open Session, the Carroll County Health Department and Department of Citizen Services presentation included a discussion to continue the local Mobile Crisis Team's call center. Carroll County recognizes the growing need for mental health support and service and this approved funding for mobile crisis services is a piece of the 988 response/referral platform.
"The 988 Lifeline is a potential lifesaver, easily connecting everyone to crisis center services and I am proud to be designated as a 988 Advocacy Ambassador," said Commissioner Mike Guerin, District 4. "Mental health is a critical issue in all communities, including Carroll County, and this simple number connects anyone experiencing a crisis and needing assistance, as well as someone with concerns about a loved one, with trained mental health specialists. We need to promote awareness of this number so everyone knows that phone-based support and information regarding local resources are available by call, text or chat.