Farm Museum Announces Citizen of the Year ArborScope Tree Tour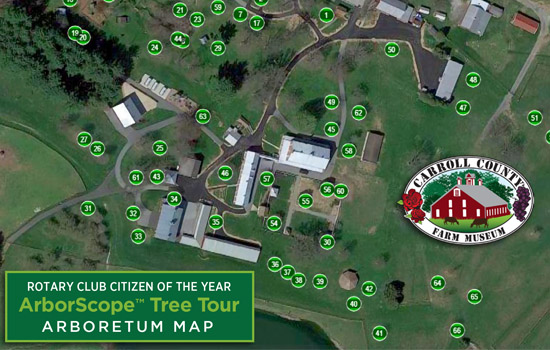 Westminster, MD, Thursday, September 7, 2023 -  The Carroll County Farm Museum is pleased to announce the Citizen of the Year ArborScope™ Tree Tour.
Starting in 1959, the Rotary Club of Westminster has annually recognized a citizen of Carroll County Maryland whose life and career have demonstrated exemplary service to the community. Along with a donation to the honoree's charity of choice, a tree is planted in partnership with Bartlett Tree Experts, at the Carroll County Farm Museum. There are now more than sixty commemorative trees planted on the Farm Museum grounds to create the  ArborScope Tree Tour.
A new brochure is available which displays the arboretum map identifying each of the Citizens of the Year, the year planted, the type of tree, and the location of the tree.  Take a tour through the Carroll County Farm Museum history and nature with the ArborScope™ QR codes— each Citizen of the Year tree is tagged with its own individual QR code plaque.
Please see the tour brochure for more information or visit the Carroll County Farm Museum website for more information. Museum hours and admission policies apply.