Carroll County Lifts Local State of Emergency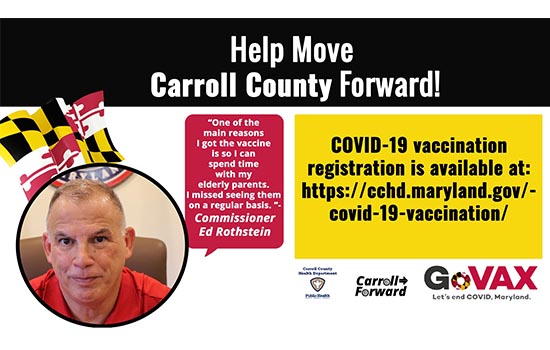 Westminster, MD, Thursday, June 10, 2021 – Today in Open Session, the Carroll County Board of Commissioners voted unanimously to end Carroll County's State of Emergency, effective immediately.
The Local State of Emergency, declared on March 14, 2020, allowed the Board President to provide one voice in making decisions. Although the authority is given to the president, decisions were discussed and communicated with all commissioners. The process allowed for a more streamlined process to make decisions in the county regarding the rapidly evolving COVID-19 health crisis. The State of Maryland's State of Emergency is still in place.
"Acts of personal responsibility, including getting vaccinated, are the most important tools we have to maintain our success for beating this virus in our county and keep our family, friends and community safe and healthy," said Commissioner President Ed Rothstein.
Accurate COVID-19 pandemic and vaccination information is still critical to the community. For the most current and accurate information about this situation, please refer to the following:
Carroll County Health Department (CCHD):  https://cchd.maryland.gov/covid-19/ 
CCHD Local Vaccination Information:   https://cchd.maryland.gov/covid-19-vaccination/
Maryland Department of Health (MDH):     https://coronavirus.maryland.gov/
Maryland Vaccination Information:  https://covidlink.maryland.gov/content/ and https://coronavirus.maryland.gov/pages/vaccine
Centers for Disease Control (CDC):             coronavirus.gov
The Carroll County Health Department's COVID-19 call center is currently open 8 am – 5 pm, Monday - Friday; the number is 410-876-4848. After hours, callers may leave a message or call 2-1-1. People with emergencies should continue to call 9-1-1.
Meetings are available for viewing on the county meeting portal and the county YouTube channel. In addition, all meetings will be replayed on Comcast Channel 24.