Bixler Selected to Lead County Human Resources Department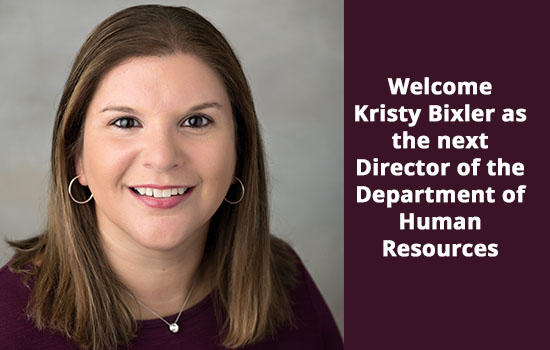 Westminster, MD, Monday, August 8, 2022 –  The Carroll County Board of County Commissioners is pleased to announce the appointment of Kristy Bixler as the next Director of the Department of Human Resources. Ms. Bixler will join the county in her new role on September 8, 2022.
Ms. Bixler is a certified human resource professional with more than 20 years of HR Generalist experience including leading a HR department in an organization with over 40 departments and nearly 2,000 employees. Director Bixler will manage the overall direction, administration and evaluation of the Department of Human Resources (DHR). Oversight includes directing personnel functions, including employment, employee relations, health benefits and retirement, ensuring legal compliance with appropriate Federal, State, local and other regulatory and/or reporting requirements, and implementing the Carroll County Board of Commissioners mission and talent strategy.
"What excites me most about joining the Carroll County team is their recognition of the need to find solutions to retain valued staff and attract future talent, " said Ms. Bixler.  "I appreciate the opportunity to bring my experience and leadership skills to the organization and continue these initiatives." 
Ms. Bixler's experience includes increasingly responsible executive level roles within the Department of Human Resources for York County, Pennsylvania advancing from HR Specialist to the Executive Director. These positions included skills in employee benefits and compensation, human resource information systems and payroll, recruitment and retention, employee and labor relations, negotiation, arbitration, policies and procedures, employee training and development, and workplace safety initiatives. Her county government experience is augmented by other leadership roles which include demonstrated skills in organization, process improvement, budgeting, and strategic planning with strong emphasis on data-based solutions.
Ms. Bixler earned a Bachelor of Science degree in General Management from Lock Haven University of Pennsylvania. Her education and training also include professional certifications and licensures including Senior Professional in Human Resources (SPHR) from Human Resource Certification Institute (HRCI) and SHRM Senior Certified Professional (SHRM-SCP) from the Society for Human Resource Management.
Ms. Bixler lives in Pennsylvania where she resides with her husband.  She enjoys spending time with family and friends, traveling, and golf.   
"People are the foundation of any organization and directing Human Resources is a critical leadership position as it plays a key management role in the strength and vitality of our workforce. Attracting someone of Kristy's tremendous experience and skills from a larger county government organization is exciting and is going to be a huge benefit to the department, Carroll County Government employees, and our management team," said Board of Commissioner President Ed Rothstein. "As the county is currently going through a comprehensive organizational development study, Kristy's experience and leadership are huge advantages that I believe will help with a seamless transition and keep our momentum moving forward."