SKYWARN® - Basics Spotter Class Offered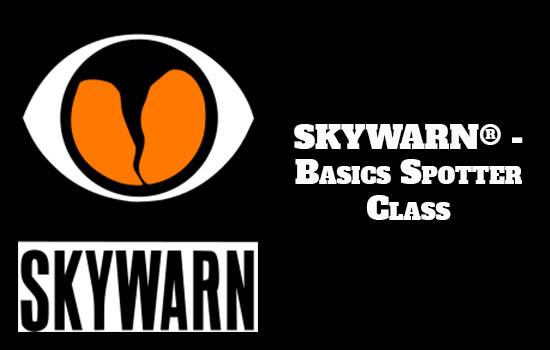 Westminster, MD, Thursday, January 13, 2022 – Carroll County Department of Public Safety is combining efforts with the Baltimore/Washington National Weather Service (NWS) to offer a virtual SKYWARN® - Basics Spotter Class, free of charge, on Wednesday, February 16, 2022 from 6:00 to 8:00 p.m.
SKYWARN® is a national network of volunteer severe weather spotters. The spotters are trained by local National Weather Service Forecast Offices on how to spot severe thunderstorms, tornadoes, hail and flooding. In some parts of the country, spotters also report snowfall and ice accumulation.
The SKYWARN® Basics course includes a general overview of what it means to be a weather spotter as well as basic information on the different kinds of weather events that affect the Mid-Atlantic region, including Carroll County. The class will be taught by a NWS meteorologist, and is designed to educate the public on weather threats in this area, as well as strengthen the ties between the NWS and the local community. Upon completion of the course, students are registered in the program by the NWS and will receive a spotter code from the NWS within six weeks.
Training in the Basics Spotter Class includes:
The Basic Organization of the National Weather Service
The Role and Importance of the SKYWARN® Spotter
Reporting of Hazardous Weather
NWS Products and the Watch/Warning/Advisory system
Thunderstorm, Flooding, Tropical and Winter Weather Threats
The Role of Amateur Short-wave (HAM) Radio in the Spotter Program
The more spotters the NWS has, the faster vital ground truth information gets to the NWS forecasters who make decisions to issue lifesaving weather warnings.
"Becoming a SKYWARN® spotter is a great way to learn more about severe weather threats in our area as well as a wonderful opportunity to help keep our Carroll County community safe by providing timely and accurate reports of weather conditions to forecasters at the National Weather Service," said Carroll County Emergency Management Manager Valerie Hawkins. "SKYWARN® storm spotters can be our first line of defense against severe weather and help the NWS provide life-saving warnings to our residents."
Class will be conducted in a virtual, online format. There is no cost to attend, but pre-registration is required.  To register, please visit https://www.eventbrite.com/e/skywarn-basics-carroll-county-md-tickets-228303520977.
For more information on the Carroll County Department of Public Safety and the Baltimore/Washington NWS, visit:
Check out the Carroll County Department of Public Safety's Facebook and Twitter (@CarrCoMDPubSafe) and the Baltimore/Washington NWS' Facebook and Twitter (@NWS_BaltWash) for tips on how to stay safe during severe weather year-round.