Carroll County Options for Post-Storm Yard Waste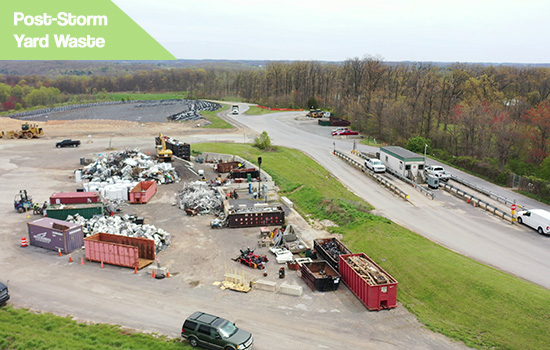 Westminster, MD, Monday,  July 18, 2022 – As Carroll County residents continue to clean up debris and downed tree branches following last week's storm, all are reminded that debris must be managed by the resident and may not be placed onto county roadways. Carroll County Code specifically prohibits this practice.
The county does not collect road-side debris, so residents should please use the following:
Yard trim - leaves, grass, shrubs & tree trimmings – are always welcomed at the Northern Landfill during regular business hours, free of charge if hauled by the homeowner. Yard waste must be brought in paper lawn bags or loose. Plastic bags are prohibited in this area.
In addition, to assist Carroll County residents with property clean-up, the Northern Landfill will accept yard waste, delivered by homeowners only, on Sunday July 24, 2022, from 8 am to 4 pm, free of charge. The event is open to residential customers only, no landscaping or other businesses are permitted on this date and only yard waste will be accepted.
Acceptable yard waste includes tree branches and other vegetation eight (8) inches or less in diameter.  Tree trunks larger than 6 inches in diameter and tree stumps will not be accepted.
The Northern Landfill is located at 1400 Baltimore Boulevard (Route 140) in Westminster.
For more information or questions, please contact the Northern Landfill at 410-386-4550.