Carroll County's Covington Named 2022 Engineer of the Year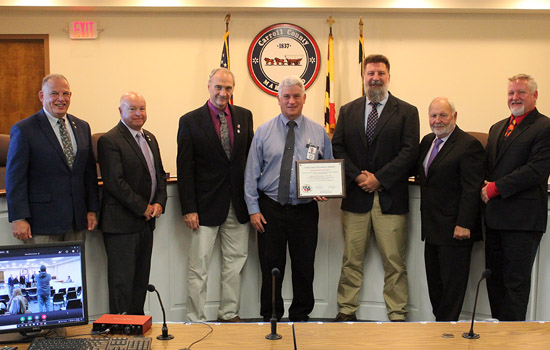 Westminster, MD, Thursday, October 27, 2022  – Martin B. Covington, III, P.E. CFM, D.WRE, Stormwater Management Program Engineer for Carroll County Government's Department of Land and Resource Management, was recognized this month as Engineer of the Year by the County Engineers Association of Maryland (CEAM).  The County Engineer of the Year Award is presented to a CEAM County Member for exemplary service to their county and/or the association.
As the county's stormwater program engineer for 26 years, Mr. Covington is the technical expert and guiding influence on stormwater management policy in the county.  His efforts include the development and enforcement of regulations that protect the public health, safety, and general welfare related to stormwater runoff.  His expertise is well known in the engineering community, and he has provided expert testimony, and technical assistance to the Maryland Department of the Environment as well as participated in public education events. This award recognizes Mr. Covington's dedication to engineering and his contributions to the field of stormwater management in Carroll County, the state of Maryland, and beyond. 
Christopher Heyn, P.E., Director of the Department of Land and Resource Management said, "I have worked in the Maryland environmental engineering community for 30 years and have not met anyone more dedicated to the engineering profession and service to their community than Martin.  It has been an honor and privilege to work with him and I am thrilled that his peers from around the state recognized him with this award."