County 9/11 Memorial Ceremony Commemorates 21st Anniversary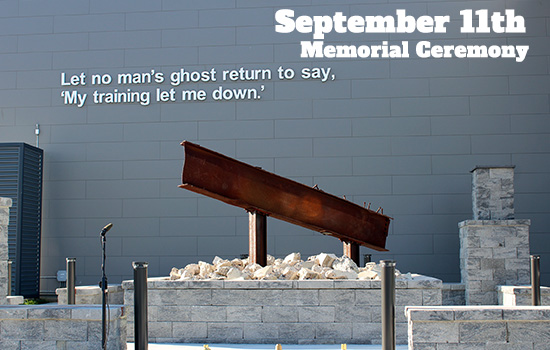 Westminster, MD, Friday, September 9, 2022 – On Sunday, September 11, 2022, county representatives will gather at the Carroll County Public Safety Training Center 9/11 Memorial at 8:30 a.m. to commemorate the 21st anniversary of the catastrophic September 11, 2001 attacks. Members of the community are encouraged to attend the outdoor ceremony, located at 50 Kate Wagner Road in Westminster.
The brief service will include remarks by Commissioner President Ed Rothstein (Colonel, Retired) and Carroll County Volunteer Emergency Services Association (CCVESA) Past President Charles Simpson. Also in attendance will be Carroll County Sheriff James DeWees, director of Carroll County Fire and EMS Michael Robinson, chair of the Emergency Services Advisory Council (ESAC) Rick Baker, president of International Association of Fire Fighters (IAFF) local 5184 Michael Karolenko, and others. Master of Ceremonies will be 1st Vice President of CCVESA Susan Mott. The ceremony will include an invocation and benediction from Liturgical Deacon Charles E. Barnhart, Jr., Keysville Evangelical Lutheran Church, an 8:46 am moment of silence and a wreath-laying.  
There may be some parking challenges due to classes in session at that time.  Vehicles should park in the upper lot which is accessed by passing the front gate and continuing to the rear of the building. 
"We will never forget the events of 9/11 and those who sacrificed so much on that day and the aftermath," said Commissioner Ed Rothstein. "It is always a somber day, and pausing to remember and honor the victims, heroes, and families is so important and the respectful thing to do."
The event will be recorded and available for viewing on the county Facebook page and the county YouTube channel. In addition, the ceremony will replay on Comcast Channel 24.