Carroll County Resident/Veteran awarded a car through the Vehicles for Change Program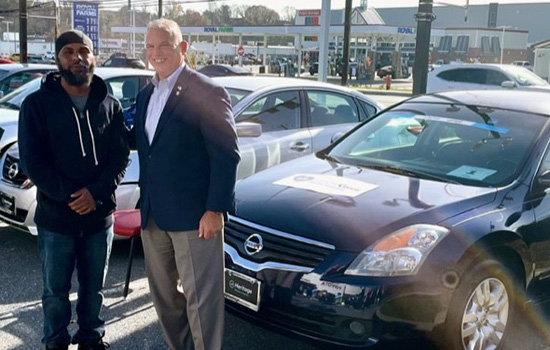 Westminster, MD, Thursday, November 10, 2022 – On the eve of Veterans Day, Commissioner Ed Rothstein and Celene Steckel, Director of the Carroll County Department of Citizen Services, gathered at an event to award a vehicle to a Carroll County Veteran.
Vehicles for Change partnered with Heritage, Mile One of Owings Mills awarded ten cars to Maryland Veterans in honor of Veterans Day. Vehicles for Change is a nonprofit organization receiving 99 percent of its car donations from the public. The organization repairs cars that meet quality standards and then award them to eligible families. A Carroll County Resident/Veteran, Tony Dickens, was awarded a vehicle today through this life-changing program.
Veteran Ed Rothstein, Commissioner, District 5, and Veteran Tzadda Carpenter, Vice President of Operations for Vehicles for Change, were on hand to present Mr. Dickens with keys to his new car.