County's Inaugural Veterans Celebration Planned for May 15th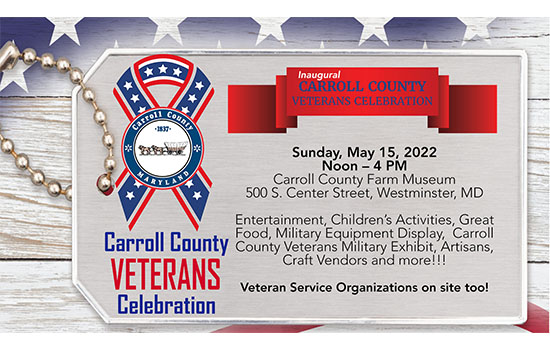 Westminster, MD, Thursday, March 10, 2022 – The Carroll County Board of Commissioners is pleased and proud to announce a new county event to celebrate and honor Carroll County Veterans, Military, and their families. The exciting new event, Carroll County Veterans Celebration, will be held Sunday, May 15, 2022 from noon – 4:00 PM at the Carroll County Farm Museum in Westminster. All Veterans, Military, and their families, and all Carroll County residents are invited to attend the free celebration.
The commissioners, with their partner the Carroll County Veterans Advisory Council, chose May, as National Military Appreciation Month, to plan an event as a give back opportunity to Veterans and their families in our community to thank them for service to our country.
This is the first gathering of its type in the county with plans to host the celebration annually and grow the activities and attendance each year. A family-friendly day is planned with activities such as entertainment, children's amusements, a military exhibition as well as vendors and food. The county has invited the Six String Soldiers from the United States Army Field Band, accomplished and celebrated entertainers, to entertain our guests followed by a second band Midnight Run. The day will also feature a resource fair hosting many Veteran Service Organizations with helpful information and materials.
The county has established a dedicated webpage and Facebook event which will confirm the musical entertainment and introduce updates and new committed activities. For more information about the Inaugural Annual Carroll County Veterans Celebration, please contact the Department of Citizen Services at 410-386-3600 and for venue-related information, please contact the Farm Museum at 800-654-4645.
Please join us! We look forward to seeing you!