County's Triple A Credit Ratings Reaffirmed Moves Forward with Bond Sale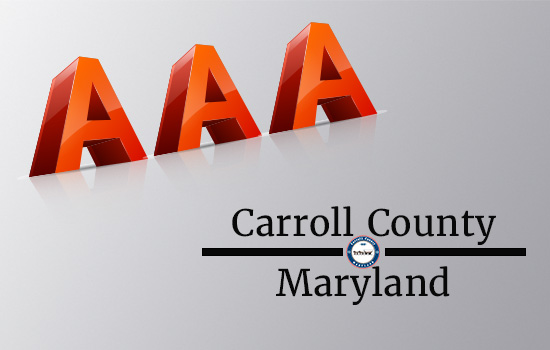 Westminster, MD, Thursday, October 20, 2022 – Carroll County is pleased to reveal the recent reaffirmation of three triple-A ratings from the three major financial rating agencies, and a subsequent low-interest rate during the October 20, 2022 bond sale. New issue bonds in the amount of $30 million were sold by the county, dedicated to various infrastructure and other capital investments for public schools, public works, and conservation & water resources.
County Comptroller Jenny Hobbs led today's presentation to the Board of Commissioners. New bonds were sold at the low-interest rate of 3.799%.
Recently the three credit rating agencies, Fitch Ratings, Standard & Poor's and Moody's Investors Services, all reaffirmed the county's AAA ratings, the highest possible rating.  Links to the credit agency reports are available on the county Comptroller's webpage.
"We were pleased to host the credit rating organizations in Carroll County this year with a visit that included a tour of our beautiful county," said Board of County Commissioner President Ed Rothstein. "The rating agencies consider many factors before rating the county and the renewal of triple AAA ratings from S&P, Fitch, and Moody's is a testament to the fiscal responsibility of staff and the Board of Commissioners. It is gratifying to receive an acknowledgment that the county's conservative fiscal management, financial position, and fiscal planning remain strong."
Meetings are available for viewing on the county meeting portal and the county YouTube channel. In addition, all meetings will be replayed on Comcast Channel 24.