Hobbs Promoted to County Comptroller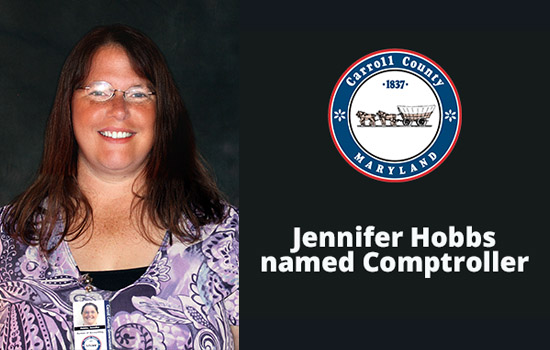 WESTMINSTER, MD, Tuesday, May 31, 2022 – The Board of County Commissioners is pleased to announce the promotion of Ms. Jennifer Hobbs as the next Comptroller for Carroll County Government. Ms. Hobbs has been acting comptroller since March 2022.  The new title is immediate.
Ms. Hobbs has worked for Carroll County for almost 21 years, beginning as a contractual summer employee while in college, and has cultivated her career entirely in the Comptroller's Office, developing a comprehensive knowledge of all areas within the office. Ms. Hobbs was consistently promoted to increasingly responsible positions within the department to accountant, financial systems administrator, financial analyst, investment officer and finally to her current position in 2019 as bureau chief of accounting. Her current role involves oversight of five teams or functions of accounting including Accounts Payable, Payroll, Utilities Billing, Enterprise Fund Accounting, Revenue and Special Revenue Funds, and Entity-wide/General Fund Accounting. As acting comptroller, her responsibilities increased to include management and coordination of all financial activities of Carroll County Government for the entire department, serving as the appointed tax collector, and oversight of the Office of Procurement and the Collections Office.
Ms. Hobbs is a graduate of Francis Scott Key High School (FSK), earned an Accounting Associates of Arts degree from Carroll Community College, and Bachelor of Science and Master of Business Administration degrees from Mount Saint Mary's College.
Jenny is a life-long resident of Carroll County. She is a 5th generation Carroll Countian, growing up on a family dairy farm in Taneytown. Her husband also has deep roots in Carroll County, is a graduate of FSK and owns a small business in Westminster. They live in Taneytown with two school-age sons who attend Carroll County Public Schools.  
Commissioner Ed Rothstein, President of the Board of Commissioners, said, "Jenny has a wealth of experience and extensive knowledge of Carroll County after working with the county for so long and advancing through many positions. I am impressed with her leadership as acting comptroller and am confident in her abilities to seamlessly adjust to this position. This well-deserved promotion recognizes her leadership and dedication to the citizens of Carroll County and her education, knowledge and experience will benefit the county in this critical management role."