County Library Exploration Commons Receives Construction Award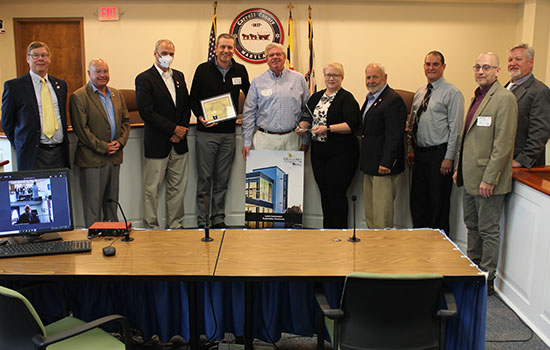 Westminster, MD, Thursday, May 19, 2022 – The Carroll County Commissioners and Carroll County Public Library are proud to jointly announce that Lewis Contractors, contractor to the new Exploration Commons project for Carroll County Public Library in Westminster, received an Excellence in Construction Award for the renovation project from the 2022 ABC Baltimore Excellence in Construction program.
The project involved renovating the formerly unused lower level of the library to provide a high-tech maker space, a fabrication lab, meeting rooms, and a commercial teaching kitchen. The Exploration Commons website states, "Exploration Commons was completed in December 2021 and provides the region with a collaborative and experiential learning space that integrates a makerspace, teaching kitchen, and learning and meeting spaces. Guided by the input of many members of the Carroll County community and makerspace leaders from around the nation, this space is the future of library services not only in Carroll County but around the nation. The space allows every person who walks through our doors to not only consume information and access equipment, but to create and contribute to their communities, learn new skills, or begin a new career."
The renovation project included an entire fit-out of the existing 13,046 SF basement shell space, as well as the addition of an exterior elevator and stair. The key features of the basement fit-out include a makerspace, commercial teaching kitchen and culinary center, and a large-scale meeting room. The makerspace includes numerous materials to inspire creativity such as 3D printers, a fabrication lab (inclusive of a laser cutter and CNC machine) as well as virtual reality and audio/visual labs. The teaching kitchen includes an entire commercial cookline, demonstration island, and hands-on instructional space. The demonstration island is complete with an overhead camera projecting to nearby TVs to allow students a direct view of what the instructor is doing without crowding around. The large-scale meeting room is sized to accommodate community meetings up to 150 people as well as ADA compliant men's, women's facilities, and a family toilet room with the county's first publicly available adult changing station. The project also included a 430 SF two-story addition to serve as the new main entrance into the space off the alley, as well as to provide a new elevator and communicating stair.
For more information about Explorations Commons please visit the website.