County Government Offices Open at 10 AM on Friday, February 25, 2022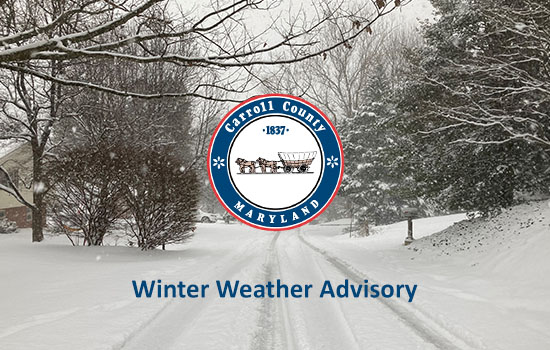 Westminster, MD, Thursday, February 24, 2022 – Due to impending inclement weather, Carroll County Government offices will open at 10:00 AM tomorrow, Friday, February 25, 2022. The delayed opening will assist safe travel for commuters around the county as uncertain conditions are expected throughout the area.  Also:
The Resource Recovery Park (Northern Landfill) will open at 10:00 AM. 
The Carroll Transit System and Trailblazer will begin services at 10:00 AM.  
"Carroll County is under a Winter Weather Advisory and hazardous conditions are possible tomorrow morning," said Commissioner Ed Rothstein, President of the Board of Commissioners.  "We want to minimize risk and a delay gives the crews extra time to salt and clean up the roads. Residents should follow safe driving practices and be mindful of possible dangerous travel situations."
Official Forecast Information: https://www.weather.gov/lwx/winter
For more information on local cold weather resources, including energy assistance, visit the Carroll County Health Department cold weather webpage or check out the Carroll County Health Department on Facebook.