County Government Offices Open 10 AM on Thursday, December 15, 2022 Reevaluation at 7:00 AM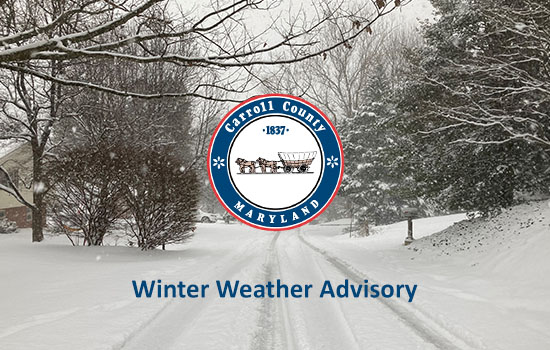 Westminster, MD, Wednesday, December 14, 2022 – Due to impending inclement weather, Carroll County Government offices will open at 10:00 AM tomorrow, Thursday, December 15, 2022. The delayed opening will assist safe travel for commuters around the county as uncertain conditions are expected throughout the area.  Also:
Board of Commissioners' Open Session will start at 11:00 AM.
The Resource Recovery Park (Northern Landfill) will open at 10:00 AM. 
The Carroll Transit System and Trailblazer will begin services at 10:00 AM.  
Please monitor for updates before traveling as the county will reevaluate at 7:00 AM.
"Forecasts indicate we might expect a messy and potentially hazardous morning," said Commissioner Ed Rothstein, President of the Board of Commissioners. "Please put safety first, stay off the roads if you can, and if you must travel, give the equipment room to work."
Official Forecast Information: https://www.weather.gov/lwx/winter
Winter Weather Preparedness Tips: https://www.ready.gov/winter-weather
Additional winter weather safety information is available in the Carroll County Citizens Guide to Emergency Preparedness:  https://www.carrollcountymd.gov/government/directory/public-safety/emergency-management/citizens-guide-to-emergency-preparedness/. Also explore the Carroll County Department of Public Safety's Facebook and Twitter (@CarrCoMDPubSafe) for more tips on how to stay safe during wintry weather.
County non-emergencies:  Residents wishing to report snow-related non-emergencies such as mailbox damage should use the county's See Click Report site and mobile app.
For more information on local cold weather resources, including energy assistance, visit the Carroll County Health Department cold weather webpage or check out the Carroll County Health Department on Facebook.