LINE OF DUTY DEATH OF PARAMEDIC/ FIREFIGHTER ROBERT A. JONES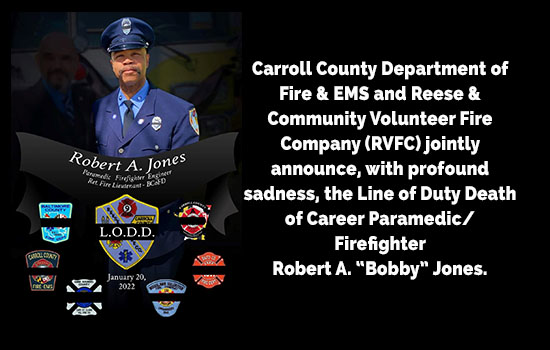 FOR IMMEDIATE RELEASE
Reese & Community Volunteer Fire Company
1745 Baltimore Blvd.
Westminster, MD  21157
www.reesevfc.org 410-848-7172 Station Point of Contact: Kati Townsley, PIO Cell: 443-487-6578
Westminster, MD, January 21, 2022 - Carroll County Department of Fire & EMS and Reese & Community Volunteer Fire Company (RVFC) jointly announce, with profound sadness, the Line of Duty Death of Career Paramedic/Firefighter Robert A. "Bobby" Jones.
Paramedic/Firefighter Jones was exposed to and contracted COVID-19 while performing his duties serving the citizens of Carroll County, Maryland in December 2021. After a hard fight and multiple complications, he succumbed to the virus on January 20, 2022.
"The Reese & Community Volunteer Fire Company is profoundly saddened by the Line of Duty Death of our friend and colleague Robert A. "Bobby" Jones. Bobby was part of our family- a friend or mentor - most of the time both - and his passing impacts all is us and will be felt for quite some time. We are grateful for the outpour of kindness and support from the community during this difficult time and are committed to honoring Bobby and giving him the proper send-off that he deserves," said Kati Townsley, PIO and Chair of the Board- Reese & Community Volunteer Fire Company.
"We extend our sincerest sympathies to Bobby's family, friends, and colleagues as they struggle with this loss," said Commissioner Stephen Wantz, District 1, on behalf of the Carroll County Board of Commissioners. "We recognize that first responders follow their hearts into service, as a calling and not a job, and we are grateful for Bobby's dedication to the residents of Carroll County and beyond, and honor his public service commitment to our community."
Commissioner Wantz added, "I have personally known and worked with Bobby for over 40 years as our public safety careers began together. His dedication to serving was immeasurable and for those of us involved in fire and emergency medical services, we feel the loss more profoundly than people can imagine." 
"The Carroll County Fire/EMS Department has lost a true legacy who provided many years of lifesaving experience to our citizens.  I extend my personal condolences, sympathies and prayers to Bobby's family and his Fire/EMS extended family," said Michael Robinson, Director of Carroll County Department of Fire and EMS. "Bobby and I worked together as paramedics nearly 40 years ago and have been close ever since.  When I recently began as the Director here in Carroll County, Bobby reached out to me to make me feel welcome and get acclimated to the system.   The loss of Bobby has impact throughout the region, and he is well known for his dedication and passion to our profession not only in Carroll County but also in Baltimore and Anne Arundel Counties."
His death represents the first in the Line of Duty Death for the Reese & Community Volunteer Fire Company, newly formed Carroll County Department of Fire & EMS and IAFF Local 5184.
Jones's dedication to the fire service began when he joined the Woodlawn Volunteer Fire Company on September 19, 1978, where he remained a life member until his death. The Fire Service became a career choice on February 28, 1982, when he entered the Baltimore County Fire Department Academy (BCoFD) as a firefighter recruit. Jones served the BCoFD as a Paramedic/Firefighter at various stations until calling Station 4D (Catonsville) home until his retirement as a Fire Lieutenant on April 4, 2012. 
Besides his years with the Baltimore County Fire Department, Jones called the Reese & Community Volunteer Fire Company in Westminster his second home and family. He joined the staff of Reese as a Paramedic in the late 1980's working part-time until he became a full time Paramedic, Firefighter, and Engineer in January 2007. Since that time, he has served the community as a paramedic, firefighter, engineer, and shift supervisor.
Jones also volunteered at Lansdowne Volunteer Fire Company from 2011-2013 and Cape St. Claire Volunteer Fire Company from January 2013 until his death, where he was promoted on May 19, 2021, as a Fire Lieutenant, by the Anne Arundel County Fire Department. Additionally, he was a career-long member of IAFF Local 1311 (Baltimore County Professional Fire Fighters) and Local 5184 (Carroll County Professional Fire Fighters & Paramedics).
Mr. Jones is survived by his mother, father, 4 siblings, 2 stepdaughters, and 2 grandchildren.  He is preceded in death by his wife.
Funeral arrangements will be announced shortly. For the latest information, please visit Reese VFC's website www.reesevfc.org and on their Facebook page.
Press inquiries should be directed to Kati Townsley, PIO of Reese VFC, at the numbers listed above.