Commissioners Proclaim May as Older Americans Month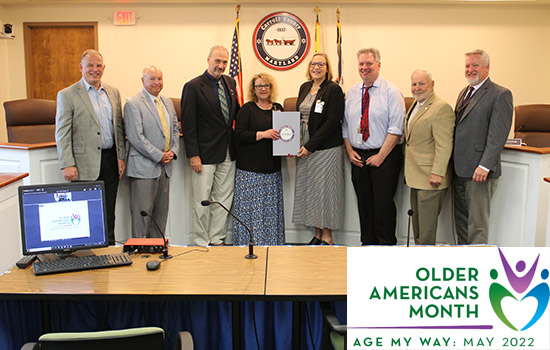 Westminster, MD, Thursday, May 12, 2022 - Today, in Open Session, the Board of County Commissioners proclaimed May 2022 as Older Americans Month.
Older Americans Month honors the growing number of older adults throughout Carroll County.  Every day, older adults make a positive impact in our communities and their diverse life experiences and insights enrich and strengthen our neighborhoods, workplaces and families.
Every May, the Administration for Community Living (ACL) leads our nation's observance of Older Americans Month. The theme for Older Americans Month 2022 is Age My Way. This theme focuses on how older adults can age in their communities, live independently for as long as possible, and participate in ways they choose.  We invite all older adults to continue to cultivate aging their way by:
Planning:  Think about what you will need and want in the future, from home and community-based services to community activities that interest you.
Engagement:  Remain involved and contribute to your community through work, volunteer, and/or civic participation opportunities
Access:  Make home improvements and modifications, use assistive technologies, and customize supports to help you age better in place. 
For 59 years, Older Americans Month (OAM) has been a special time to recognize these contributions. Led by the ACL each May, OAM also provides resources to help older Americans stay healthy and independent, and materials to help communities support and celebrate their citizens. For more information, please visit www.acl.gov.
Carroll County Bureau of Aging & Disabilities (BOAD) is committed to strengthening our community by connecting with and supporting older adults, their families, veterans, and caregivers and acknowledging their many valuable contributions to society. BOAD has provided services to older adults in Carroll County for 50 years (1972). Recently, Carroll County was accepted into AARP's Age-Friendly Community Network with the intent of working to enhance opportunities for Carroll County residents to live rewarding, productive, and safe lives at every age. 
The Board of County Commissioners urges every resident to take time this month to recognize older adults and the people who serve them as essential and valuable members of our community.
Meetings are available for viewing on the county meeting portal and the county YouTube channel. In addition, all meetings will be replayed on Comcast Channel 24.