Carroll County Bureau of Aging & Disabilities to Host 50th Anniversary Celebration on April 27th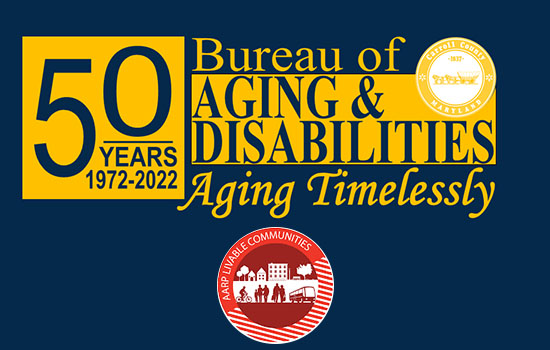 Westminster, MD, Tuesday, April 12, 2022 – Carroll County Bureau of Aging & Disabilities is excited to celebrate its 50-year anniversary and invites all residents, colleagues and partners to join the event recognizing this milestone. The celebration will be held on Wednesday, April 27, 2022, from 10am to 2pm on the campus of the Bureau of Aging & Disabilities and Westminster Senior & Community Center at 125 Stoner Avenue in Westminster. The celebration includes the launch of AARP's Age-Friendly Community Initiative.   
An Opening Ceremony begins at 10am to reflect on 50 years of service to older adults, individuals with disabilities, Veterans and those who care for them. During the ceremony, AARP representatives will be on-site to officially welcome Carroll County into AARP's Age-Friendly Community Network. The AARP Age-Friendly Community initiative is a 5+ year commitment that will engage all citizens to help inform the roadmap that will drive the evolution of Carroll County into a livable community where residents of all ages and abilities are able to thrive through civic, economic, and social connection.
Celebration activities include:
Walk Carroll event with the Partnership for a Healthier Carroll County
Seated yoga and line dancing demonstrations with the Department of Recreation and Parks
Tours and information on all aging programs and services provided by the Bureau
Fraud and Scam Prevention presentations offered by the Carroll County State's Attorney's Office
COVID-19 Vaccine/Booster clinic with the Carroll County Health Department
Opportunities to win exclusive prizes through free raffles and bingo
Musical entertainment
Participants of tours, seated yoga and line dancing demonstration, corn hole games, Fraud and Scam Prevention presentations, and Walk Carroll event will receive a free 50th Anniversary shirt as supplies last. Food trucks will be on-site as well. Registration is not required to attend the event.
For more information on this event please contact the Carroll County Bureau of Aging & Disabilities at 410-386-3800 or visit our website at www.carrollcountymd.gov/aging-and-disabilities.