Carroll County Department of Fire & EMS Now Hiring Lieutenants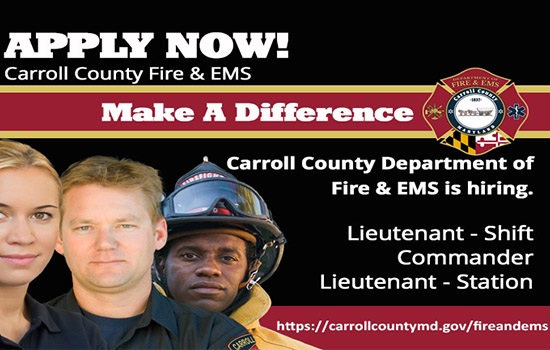 Westminster, MD, Tuesday, November 15, 2022 – The Carroll County Department of Fire & EMS (CCDFEMS) announces it is accepting applications for two positions, with several openings each, beginning immediately. According to Chief Michael Robinson, Director of Fire & EMS, "We are excited to begin the application process for multiple new positions within Fire & EMS!"
These current openings include:
Shift Commander Lieutenant
Station Lieutenant
Applicants interested and qualified for these positions will find more information and can apply here.
Information Sessions will be held Saturday, Nov. 19th from 9am - 12pm and Tuesday, November 22nd from 6pm - 9pm at the Public Safety Training Center,  50 Kate Wagner Road in Westminster. The Chief will give a presentation and a representative from Human Resources will be on site to answer questions. Topics will include:  concept and overview of CCDFEMS, overview of positions/timeline by fiscal year, required credentials for Fire/Rescue and EMS, application process and compensation/benefits overview, relevant timeline for hiring, Physical Ability Test (PAT) process-practice/testing/equivalencies, as well as time for questions and concerns. All interested parties are welcome, sign up is not necessary.
Interested candidates unable to attend the sessions can email CarrollDFEMSHiring@carrollcountymd.gov or visit the website.
The hiring process involves several parameters that will qualify individuals with existing training and certifications.  This will include validation of training and certifications, written testing, physical ability testing, skills evaluation, background investigation, occupational physical exam, psychological testing and an interview process.  Successful applicants may be offered employment based on the positions to which they apply.
The Carroll County Department of Fire/EMS is a combination system that will deploy from 13 of 14 volunteer fire stations and will provide a 24/72 work schedule.  Salaries and benefits will be competitive based on the Baltimore metro region. The department will provide a positive work environment with modern equipment and apparatus and a chance to become a part of a developing and progressive fire & EMS system with career growth and opportunity. 
It will be most important that applicants have the "exact" credentials as stated in the job posting. The Maryland Fire Service Personnel Qualifications Board (MFSPQB) can assist with obtaining fire credentials. 
Please visit and follow the department website and social media for ongoing and further information regarding our employment process and to get acquainted with the organization. The website address is: https://www.carrollcountymd.gov/fireandems.
The Department of Human Resources site will provide further information on employment with Carroll County as well as an overview of employment benefits.
https://www.carrollcountymd.gov/government/directory/human-resources/benefits/
Those looking for a great fire/EMS opportunity should look no further!  Carroll County DFEMS provides not only a job but a career where you can really "Make a difference!"
Please refer all questions to Chief Robinson, MA, CFO, NRP at 410-386-2075 or mrobinson@carrollcountymd.gov.