Like, Follow, and Share Carroll Environment on Facebook!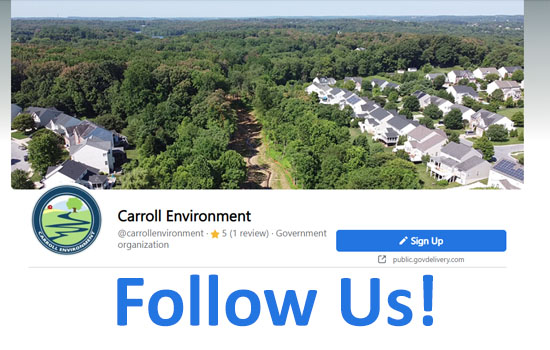 Westminster, MD, Tuesday, March 1, 2022 - The Carroll County Department of Land and Resource Management is now on Facebook at Carroll Environment!  Residents interested in the environment, and specifically the Carroll County environment, are encouraged to learn and engage through the new social media page.
The new page will promote opportunities for Carroll County's residents to learn about and engage in information, projects, and activities that promote environmental stewardship and understanding in Carroll County.  Posts will highlight ongoing and completed projects, solicit interest in volunteer opportunities, and promote environmental initiatives within the department and beyond.  Watch for updates to find out about stream cleanups, tree plantings, and invasive species removal events hosted by the department.  We're excited for you to join us!
For more information, please contact Patrick Varga, CFM, Content Coordinator, at 410-386-2844 or pvarga@carrollcountymd.gov. For more information about the Department of Land and Resource Management, visit the county's website.