Citizen Services Receives Community Collaboration Award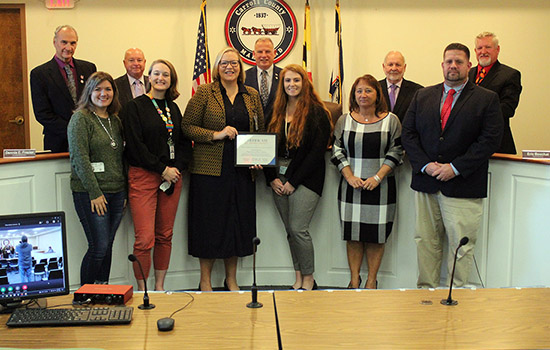 Westminster, MD, Thursday, October 27, 2022 - Carroll County Department of Citizen Services received the Community Collaboration Award from Together We Own It (TWOI) at the organization's Annual Bull and Oyster Roast on October 22, 2022. The award was presented to the department's Local Management Board team during the TWOI event.  
The award is given to an individual or organization that places emphasis on community partnership and collaboration and recognizes the individuals or organizations that strive to lift up their community by lifting up those around them.
Through the partnership with Carroll County's Local Management Board, Together We Own It expanded their programming to include the Wraparound Family Services Program. This program is designed for children and families with complex needs, acting as a continuum to serve and support, and connecting them to resources.  This is a crucial service to the community with the program serving 115 unique individuals since its inception in January 2021. 
Together We Own It is also instrumental in ensuring that local program and service design incorporates the voices of the youth being served.  This is now being accomplished on a community-wide scale thanks to Together We Own It's partnership with Citizen Services, other youth-serving agencies and the Continuum of Care Homelessness Board and their combined efforts in the ongoing development of a Youth Action Board.
"We are honored to receive this unexpected recognition and value our partnership with TWOI, a non-profit that provides essential services to some of Carroll's most at risk youth," noted Celene Steckel, Director of Citizen Services.