Piney Run Park's 2021 Big Fish Contest Winner Announced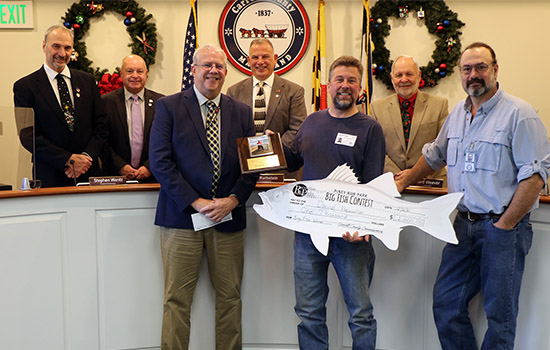 Westminster, MD, Thursday, December 16, 2021 – Today, in Open Session, Director of Recreation and Parks Jeff Degitz announced the winner of Piney Run Park's annual Big Fish Contest.  Each year, the Carroll County Department of Recreation and Parks holds a 9-month long contest where the largest catch of the year wins $1,000.  This year's winner David Neuwiller visited Piney Run Park on March 26th where he reeled in a 41.5-inch striped bass weighing over 28 lbs.
Piney Run Park's reservoir is home to many species of fish eligible for the $1,000 prize, including largemouth bass, bluegill, sunfish, crappie, yellow perch, striped bass, catfish, and trout. The fish must be caught at Piney Run Park during open season and open hours, March 1-November 30, legal in size and in-season, alive, and measured in and recorded with staff at Piney Run Park.
Mr. Neuwiller also participated in session today to receive a plaque and the $1,000 big fish check and provide details of the catch.  Mr. Neuwiller's father, Richard Neuwiller, who holds the all-time record for largest fish (45" Striped Bass, 36.6lbs, caught on October 8, 2014), was also in attendance.
On March 1, 2022, Recreation and Parks will kick off the fishing season with the 2022 Piney Run Park Big Fish Contest. The biggest catch for the 2022 fishing season, March 1-November 30, 2022, will take home a $1,000 prize. If the winner beats the largest recorded catch at Piney Run Park, they will take home an additional $500.
For more information about recreational programs and parks, please visit ccrecpark.org or call 410-386-2103.